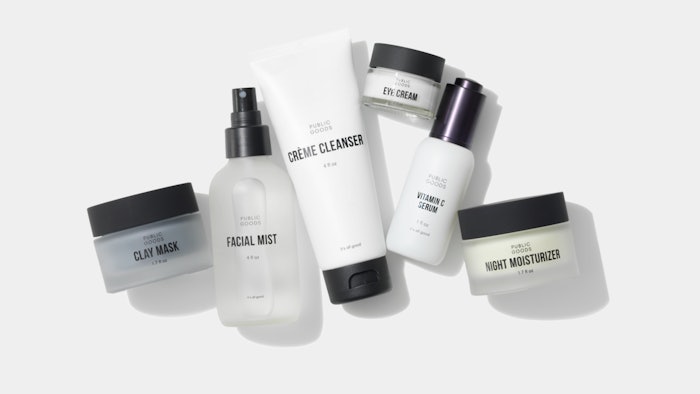 Public Goods has added a skin care line to accompany its hair and body care, oral care, essential oils and menstrual care lines. The debut launch includes cleansers, moisturizer, treatment, a clay mask and skin care tools.
Related: BlueSkys Beauty Launches into the United States
The entire skin care line is formulated without silicone, dyes, fragrances, parabens and animal products.
Public Goods Crème Cleanser is formulated with kaolin clay and sodium cocoyl isethionate, a cleanser derived from coconut oil. It costs $10 per 4 oz.
Another cleansing option is its Micellar Water, which uses tiny cleansing units called micelles to gently remove makeup without stripping skin. It costs $12 per 4 fl. oz.
For toning, Public Goods offers a Facial Mist made from rose and jasmine essential waters. It is not diluted with water, alcohol, glycerin or any fillers. It costs $15 per 4 oz.
Its Night Moisturizer uses retinal, hyaluronic acid, aloe and coconut alkanes. The moisturizer is intended for intermittent use initially while working up to daily use. Avoid using with other retinol, exfoliators, astringents, acne treatments or vitamin C products. It costs $15 per 1.7 oz.
Public Goods Eye Cream is lightweight and formulated with caffeine, peptides and hyaluronic acid to moisturize the eye area. It costs $12 per 0.5 fl. oz.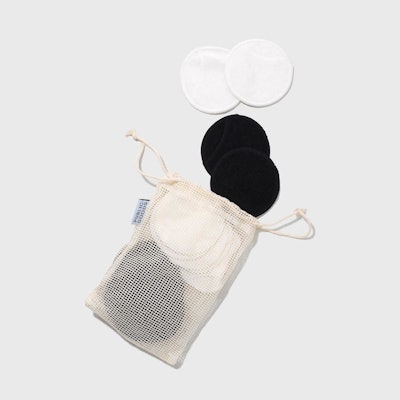 Public Goods Vitamin C Serum is plant-derived and uses vitamin C to brighten skin. It also uses hyaluronic acid to lock in moisture. It costs $13 per 1 fl. oz.
Its Clay Mask is created with kaolin, bentonite, charcoal, aloe, acai, apples and chamomile extract. It is intended to provide a cool tightness without extreme tingling or burning. It costs $15 per 1.7 fl. oz.
Public Goods also offers skin care tools, including cleansing pads and a Gua Sha tool.
Its Reusable Cleansing Rounds are made from 80% bamboo fiber and 20% polyester. It is intended for make-up removal and toner. The rounds can also be frozen and placed under the eyes for cooling eye treatment. To reuse the rounds, put them in the mesh bag and machine wash. It costs $9.50 for a pack of 14 rounds.
Public Goods Gua Sha tool is custom designed using natural jade to keep skin radiant and supple. It should be used with a facial oil to massage the skin. It does not contain any plastic, lead or silicone. It costs $18.
Its Spa Headband is intended to push back hair while cleansing, masking, moisturizing or applying makeup. It is made from 100% recycled PET fiber. It costs $8.
The Public Goods skin care collection is available on publicgoods.com.