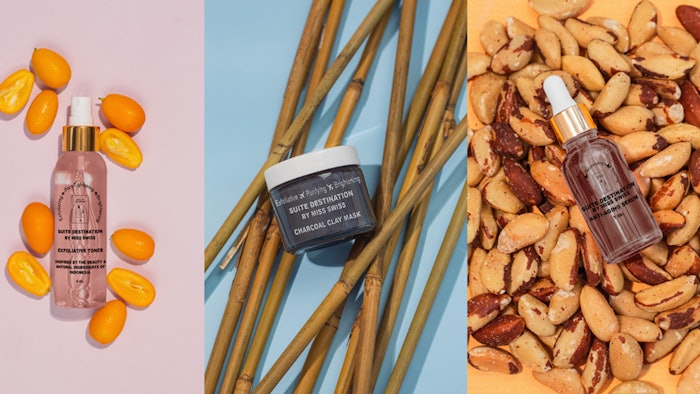 Miss Swiss is expanding into skin care with the launch of Suite Destination Skin Care Collection—seven vegan and cruelty-free products inspired by specific countries and formulated with actives native to that country. The brand will also donate a portion of sales to charities local to the country that inspired the product. The collection ranges from cleansers to serums.
Related: Community Sixty-Six Brand Debuts
Exfoliative Toner is inspired by Indonesia and formulated with sandalwood and white tea extract sourced from Indonesia. The toner intends to exfoliate, brighten and reduce the look of pores; it costs $25.
Brightening Pink Clay Mask is inspired by France and formulated with pink clay and chamomile. The multi-functional mask intends to brighten and purify while calming skin and reducing irritation. It costs $35.
Exfoliative Clay Mask is inspired by India and formulated with bamboo stem, bakuchiol, punarnava root extract and moringa oil. The mask detoxifies and removes impurities; it costs $35.
Brightening Serum is inspired by Korea and formulated with white ginseng and mulberry extract. The serum intends to repair, hydrate and brighten skin. It costs $28.
Gel to Milk Cleaner is inspired by Jamaica and formulated with aloe extract and coconut oil. It intends to cleanse and purify skin to hydrate and soothe. It costs $25.
Anti-Aging Serum is inspired by Brazil and formulated with acai extract, nut, and bacuri butter. It is intended to repair and nourish and slow the aging process. It costs $28.
Eye Cream is inspired by China and formulated with ginkgo Biloba and bakuchiol. The eye cream is intended to hydrate and repair the under-eye area to prevent dark circles and tighten skin. It costs $40.
The Suite Destination Skin Care Collection is available on Amazon and at missswiss.com.