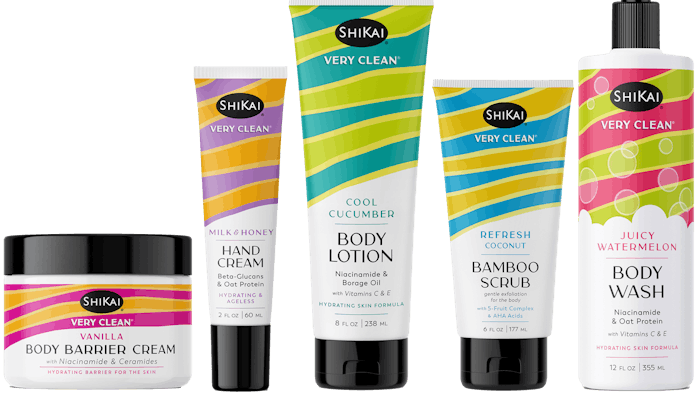 ShiKai has announced the Very Clean five-step body care system, which includes Body Wash, Bamboo Scrub, Body Lotion, Hand Cream and Barrier Cream. The collection is designed to cleanse, exfoliate, moisturize, hydrate and protect skin. The brand also added to its Healthy Glow collection with the launch of Super C Serum, Vitamin C Mist Toner and Brightening Cream.
Related: SKIN1004's Hyalu-Cica Collection Enhances Skin Moisture
The Very Clean five-step body care system uses a vegan and gluten-free formula with a blend of plant and vitamin extracts. Each step intends to deliver a unique benefit on its own and in harmony with the rest of the system. The products range from $6.99 to $14.99. ShiKai is donating a percentage of Very Clean sales to non-profits helping to create climate-resilient communities.
ShiKai is expanding its vitamin C-based Healthy Glow line with three new products—Super C Serum, Vitamin C Mist Toner and Brightening Cream. The collection is the brand's first formula that integrates vitamin C and botanicals to protect the skin's microbiome, restore moisture and brighten skin tone.
"With over 51 years in the natural skin and body care space and seasoned organic chemists at the helm of our product innovation, we are constantly striving to deliver the most effective body and skin care solutions," said Jason Sepp, ShiKai president. "The Very Clean system represents the best of what we do–combining high-quality botanicals and ingredients to offer a solution in the body care space that consumers know is effective and crafted with the environment in mind."
ShiKai's newest products will debut at 2022 Natural Products EXPO West, Booth #2751. More information is available at shikai.com.