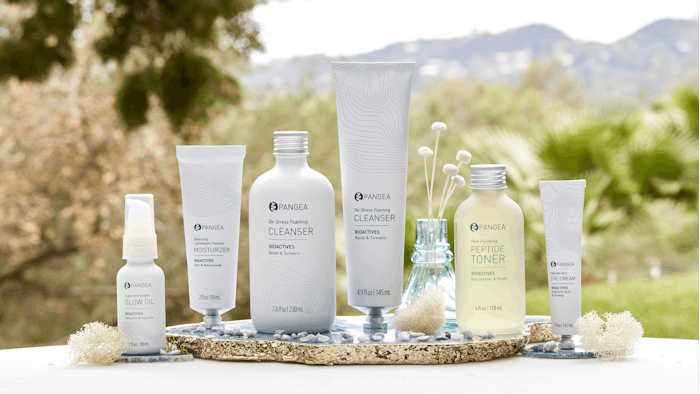 Pangea Organics' skin care has landed on The Goop List, Goop's clean beauty spotlight portal. Other participating brands include Act + Acre and 19/99. 
Previously: The brand has expanded into skin care with a debut launch that includes a full routine of cleansers, toners, eye cream, moisturizers, treatments, masks and exfoliators. The collection uses sustainably sourced bioactive ingredients and completely plastic-free packaging.
Related: Joos Cosmetics Debuts with Superfood-infused Skin Care
Some of the organic active ingredients used in Pangea's skin care collection include reishi mushroom, turmeric, nori, bakuchiol, and niacinamide. The brand's Life After Plastic Pledge signifies that every aspect of its packaging, from bottles to seals and labels, are completely plastic-free.
The De-Stress Foaming Facial Cleanser is a lightweight gel infused with reishi mushroom, turmeric and calendula to gently cleanse and purify the skin. It costs $38.
Pangea's Pore Purifying Peptide Toner is an alcohol-free, multi-tasking elixir that works to clean pores, reduce dark spots, fine lines and wrinkles and even skin tone. The toner is infused with amino acids, ferulic acid, peptides, reishi mushroom, niacinamide and antioxidants to visibly brighten, smooth and firm skin. It costs $34.
The Ultra Rich Nourishing Moisturizer is formulated with cloudberry, hyaluronic acid, magnolia bark extract and orchid oil to hydrate and nourish skin and reduce fine lines and wrinkles. It costs $54.
The Peptide-Rich Eye Cream is formulated with hyaluronic acid, ginseng, nonapeptide-1, marula oil and peptides to reduce visible signs of aging. hydrate the eye area and protect from environmental aggressors for brighter, firmer-looking skin. It costs $48.
Pangea Skin Care is available at pangeaorganics.com.
Joshua Onysko, founder and CEO of Pangea, said, "When creating Pangea Skin care, I sought to establish self-care beauty products that were highly effective while still upholding Pangea's commitment to ethically-sourced ingredients in order to help build a more sustainable future. Through my connections and in building a deep knowledge behind the power of plant-based bioactive, I became aware of the positive impact utilizing organic and regenerative ingredients can have on both our skin and the planet. At Pangea, we strive for gold-standard efficacy, which starts with transparency and ends with delivery. It is our mission to provide consumers a choice for high-quality, plastic-free products and truly inspire continued change within the beauty industry."