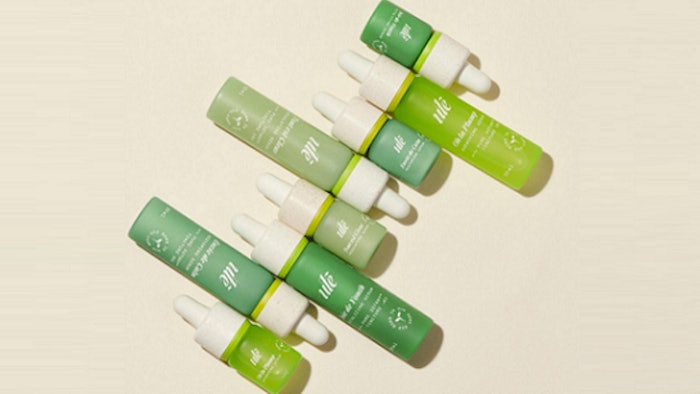 Shiseido has announced the launch of a new conscious prestige skin care brand, Ulé, in France. The debut launch on May 2, 2022, includes eight products available on the brand's e-commerce site and a brand boutique in Paris.
Related: Revieve and Shiseido Release AI Makeup Advisor
Ulé partnered with Tower Farm to build a vertical farm near Paris, France, to increase the ratio of local sourcing and reduce the environmental impact caused by shipping.
The brand utilizes extract technology that allows it to extract ingredients from the entire plant, resulting in a minimum of 96% ingredients of natural origin, according to the brand. All production and packaging are conducted in Shiseido's factory in Ormes, France.
Ulé uses bio-sourced materials in its packages and reduces the weight of its glass jars to lessen the environmental impact caused by shipping.
Ulé's debut launch includes:
Le beau Reset Balancing Floral Mist: 100 ml for €65 ($70.53), 20 ml for €30 ($32.55)
Je suis Chill Hydra-Fortifying CBD Moisturizer: 50 ml for €89 ($96.57), 15ml for €35 ($37.98)
Envie de Calm Restorative Serum: 30 ml for €94($102), 10 ml for €42 ($45.57)
Oh la Plump Thirst Quenching Serum: 30 ml for €105 ($113.93), 10ml for €45 ($48.83)
Joie de Youth Revitalizing Serum: 30 ml for €119 ($129.12), 10ml for €48 ($52.08)
Tout est Clear Regulating Serum: 30 ml for €82 ($88.97), 10ml for €36 ($39.06)
Avoir it All In & Out Phyto Nutritive Oil: 100 ml for €74 ($80.29)
Merci Immunity Defending Nutri Cosmetics: 90 g for €68 ($73.78)