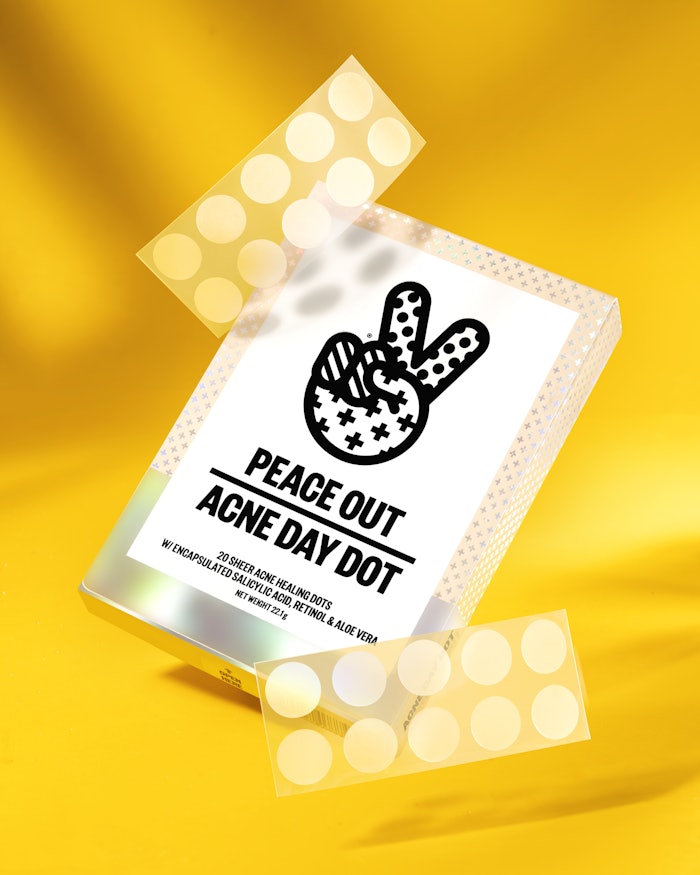 Peace Out Skincare has launched its Peace Out Acne Day Dot, an ultra-sheer version of its best-selling Acne Dot that is designed to be worn either alone or under makeup.
The company says the Peace Out Acne Day Dot is the first makeup-friendly, targeted pimple patch.
The Acne Day Dot is 62% thinner than the brand's original Acne Dot, providing a daytime acne solution that pairs well with oil- and water-based makeup, according to Peace Out Skincare.
The Peace Out Acne Day Dot is formulated with a blend of acne-fighting actives that the company says minimizes breakouts in six hours or less:
The brand's hydrocolloid polymer technology extracts impurities and creates a barrier that guards against external elements.
Encapsulated salicylic acid penetrates pores to help clear acne blemishes.
Retinyl acetate (vitamin A), an ester form of retinol, helps promote clearer-looking skin.
Aloe vera leaf extract gently soothes while minimizing the appearance of redness.
To apply the dots, Peace Out Skincare recommends that users begin with cleansed, dry skin. Then they should apply the dots tacky side down directly on the blemishes. Users should then continue with their skin care and/or makeup routines. They can wear the dots for six hours and repeat as needed.
For peskier breakouts, Peace Out Skincare recommends pairing the Peace Out Acne Day Dots with the brand's original Peace Out Acne Dots, which the consumer can use while sleeping.