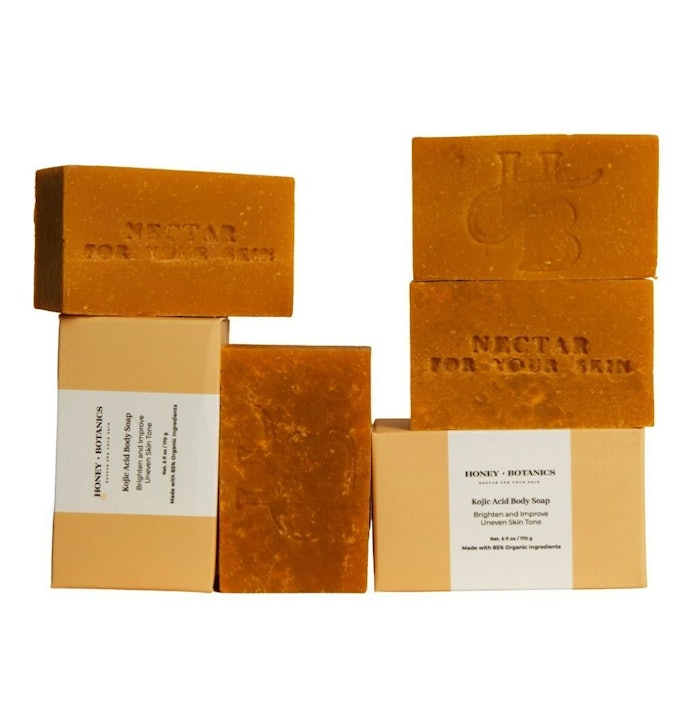 Honey Botanics is debuting with skin care products that tackle concerns such as acne, eczema, hyperpigmentation, melasma and psoriasis.
Previously: John Legend Launching Unisex Skin Care Brand, Loved01
The organic products are handmade in Harlem, New York and include soaps, creams and accessories.
Top sellers include: 
Kojic Acid Body Soap: tackles hyperpigmentation and scarring
Eczema Body Soap: protects and nourishes the skin from drying and relieves eczema-prone skin from itch
Detox Body Bar: detoxes, nourishes and clarifies skin
Glutathione Body Soap: regenerate and nourish skin
Konjac Face Sponge: exfoliates meets cleansing sponge for a refreshed face 
Honey Botanics ships in the United States via Amazon, as well as honeybotanics.com.
Dana Sellers, spokesperson for Honey Botanics, said, "Dealing with skin issues is never fun, and conditions like eczema can be stressful. But, learning how to treat it can make a huge difference. Severe cases of eczema will require prescription treatments, but many of us with eczema-prone skin can get by with over-the-counter products filled with emollient, humectant ingredients to rehydrate and restore the dry, cracked skin caused by eczema. Honey Botanics products contain ingredients that help to hydrate, nourish and soothe my skin. They're perfect for anyone, especially for sensitive skin conditions like eczema."