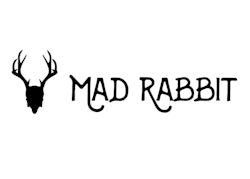 Four-year-old aftercare brand Mad Rabbit Tattoo, which is currently growing 138% year-over-year, has closed a $10 million Series A funding round, quadrupling its valuation to $56 million. The funds will be leveraged to expand the brand's product line, increase its marketing efforts and grow its team. 
The round was led by Lucas Brand Equity (LBE) with Mark Cuban, Acronym Venture Capital, H Venture Partners and others participating.
Subsequent to the latest funding, Ian Knowles, a partner at LBE, has joined the board of Mad Rabbit.
"We are thrilled to have the support of such prominent investors, who believe in our vision and our commitment to providing the best possible aftercare products to tattoo enthusiasts," said Oliver Zak, CEO of Mad Rabbit. "This investment will allow us to continue to innovate and expand our product line, while maintaining our commitment to quality and customer satisfaction."
Mad Rabbit reportedly sells one tattoo balm every 90 seconds and has helped preserve more than 3 million tattoos to date. The brand retails at madrabbit.com, verishop.com, vitaminshoppe.com, and in-store at 350 Urban Outfitters and 1,200 GNC locations, as well as 350 tattoo shops in the United States.
The tattoo industry is reportedly projected to grow globally by 9.43% by 2029. As a result, the sector has picked up interest, as seen with the recent L'Oreal-Prinker deal and BIC's recent acquisition of Inkbox.
"I am thrilled to once again invest in Mad Rabbit and support its continued growth since their appearance on Shark Tank," said Cuban. "The brand found a need that didn't have a sophisticated solution. I admire that foresight and ingenuity and am excited for the future of the company."
"This is our second investment in Mad Rabbit, having participated in the previous round, which of course is indicative of our belief in the management team and the business," said Knowles. "I have worked closely with Oliver, Drew, Selom and the team over the past 18 months and they continue to prove their acumen as visionaries and business leaders. There is no other brand in the massive tattoo market delivering the range or quality of products and brand experience to consumers and professionals like Mad Rabbit is. Even at our early stage, Mad Rabbit is by far the most notable brand in the category and frankly, we're just getting started. I look forward to our exciting future and the work we have ahead of us as we venture to build Mad Rabbit into the number one brand in tattoo, globally."