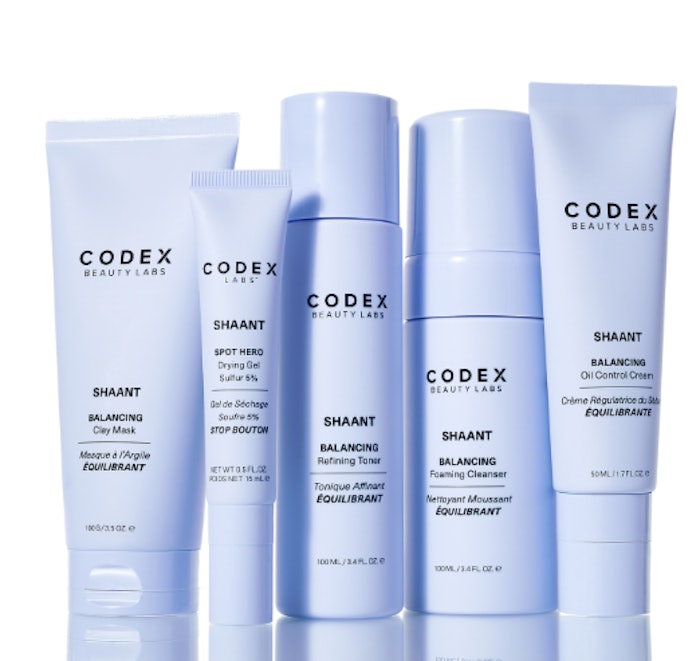 Codex Labs has launched its Shaant over-the-counter topicals collection for acne management. 
Shaant, meaning peace and calm in Hindi, is often paired with connectedness in Ayurvedic philosophy. 
The products were formulated in partnership with Raja Sivamani, M.D., an integrative dermatologist and certified Ayurvedic practitioner.
The OTC collection harnesses the acne-clearing power of the patented ShaantComplex, a biotech-based blend of actives derived from terrestrial and marine plants that has been clinically proven to help control oiliness, shed pore-clogging dead skin cells, minimize the appearance of pores, and reduce the appearance of redness.
Collection includes:
Spot Hero Drying Gel: A blemish treatment cream with 5% Sulfur (now available)
Pore Purifying Face Scrub: A daily face exfoliator with 2% Salicylic Acid (available June 2023)
Hydrating Body Scrub: A daily body exfoliator with 2% Salicylic Acid (available June 2023)
All three products are vegan and cruelty free, and the two scrubs are also MyMicrobiome-certified. 
Barbara Paldus, Ph. D., CEO of Codex Labs, said, "At Codex Labs, we believe that in order to fully maximize the effectiveness of our biotech-based skincare solutions, we also needed to offer potent  OTC topicals formulated within the FDA's framework that are targeted towards specific skin conditions such as acne. In doing so, we have further demonstrated our commitment to bringing relief to people suffering with acne and other inflammation-based skin conditions."
Sivamani said, "Shaant products were fully tested in a clinical study and performed well for managing mild to moderate acne. We are excited to have published this work in the Journal of Clinical Medicine."