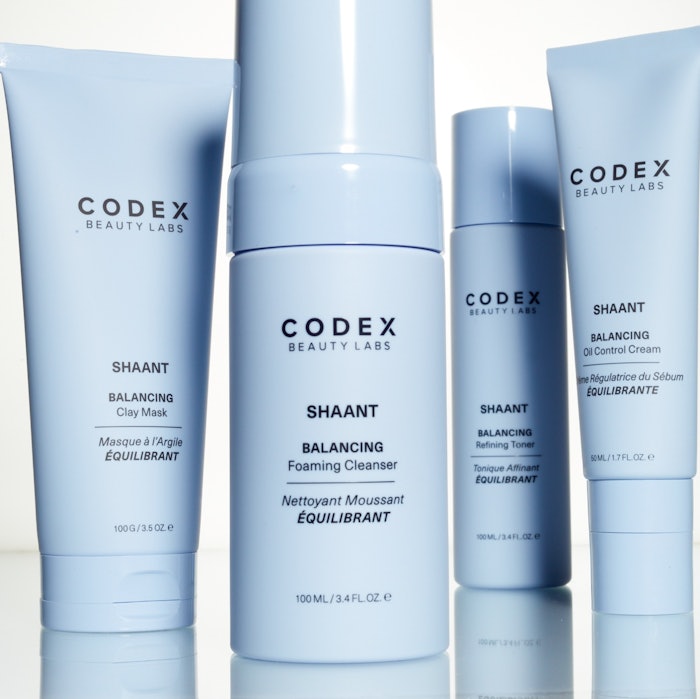 Codex Beauty Labs, a plant-based biotech skin care company, has launched Shaant, a line of products that treats oily and acne-prone skin by supporting the skin's natural microbiome.
The Shaant collection features Codex Beauty Labs' patent-pending Shaant Complex technology, which maintains the native microbiome of the skin—the best defense for oily and acne prone skin, according to the company.
The complex is composed of a proprietary blend of terrestrial and marine plants that help control oiliness, shed dead skin cells, shrink pore diameter and reduce redness. Each plant addresses the acne inflammasome in distinct yet synergistic ways.
In addition, the Shaant Complex is supplemented by Ayurvedic plant or fruit extracts that are known for their analgesic, anti-inflammatory and oil-controlling properties.
Codex Beauty Labs launched the line with four topical products:
The Balancing Foaming Cleanser decongests pores without stripping moisture from the skin. This oil-free, sugar-based cleanser helps maintain the stability of skin cell membranes with glycolipids and deep-cleans pores with Ayurvedic tulsi.
The Balancing Refining Toner hydrates skin, soothes irritation and minimizes pores. It contains anti-inflammatory Ayurvedic neem as well as 2% gluconolactone to exfoliate, hydrate and calm the skin, while witch hazel purifies pores and reduces their size.
The Balancing Clay Mask absorbs excess oil, cleans pores and deeply exfoliates the skin. Its formulation includes 2% bentonite, which removes grime and purifies pores; starches from rice and corn to absorb sebum; and anti-oxidant rich Ayurvedic turmeric, which improves uneven skin tone and helps brighten the skin.
The Balancing Oil Control Cream mattifies oiliness and smooths skin texture. The cream includes 1% bakuchiol, a retinoid equivalent that soothes the skin and unclogs pores. In addition, Ayurvedic ashwagandha helps control oil production while calming and protecting the skin against environmental stressors.
Codex Beauty Labs developed the Shaant products in partnership with Raja Sivamani, M.D., M.S., C.A.T., an integrative dermatologist and certified Ayurvedic practitioner. They leveraged biotech-manufactured plant stem cells from Indian plants long valued by Ayurvedic healers for their calming, soothing and balancing properties.
Barb Paldus, Ph.D., founder and CEO of Codex Beauty Labs, said, "Through Ayurvedic plant databases in India, we have identified actives that address two root causes, namely sebum overproduction and accumulation of dead skin cells in pores."
"By integrating concepts from Ayurvedic medicine, plant sciences and food sciences, I look to push the boundaries of integrative therapies to make them better for our patients and to better educate those around me," Sivamani said. "This is the philosophy behind the Shaant skincare collection for acne-prone skin: Ayurvedic plants, such as gotu kola or patchouli, that have been vetted with Western scientific tools, like their effect on gene expression in skin cells and clinical tests on patients with acne."
Sivamani added, "I always love to try to bridge the Ayurvedic principles into the western principles. The way Ayurveda looks at the body is slightly different, but, actually, it really beautifully integrates with the western approach when you start building these bridges. Shaant is a great example of this confluence."
The Shaant products are certified by MyMicrobiome, Vegan Action, Leaping Bunny and the Environmental Working Group. The cleanser and toner have also earned COSMOS Natural certification from Ecocert.    
All Shaant products contain sustainably sourced ingredients housed in plant-based polyethylene tubes or 50% post-consumer-resin PET bottles, which reduce each product's carbon footprint from about 50% to 100%, per the brand. 
Balancing Foaming Cleanser
$25 per 3.4 fl oz
Ingredients: Water (Aqua), Glycerin, Lactobacillus Ferment, Propanediol, Coco-Glucoside, Lactobacillus, Heptyl Glucoside, Coco-Betaine, Glycolipids, Fucus Spiralis (Spiral Wrack) Extract, Tetraselmis Chui Extract, Centella Asiatica Leaf Extract, Ocimum Sanctum Leaf Oil, Octyldodecanol, Pogostemon Cablin (Patchouli) Leaf Extract, Cocos Nucifera (Coconut) Fruit Extract, Sodium Chloride, Sodium Benzoate, Potassium Sorbate, Citric Acid, Xanthan Gum, Heptanol   
Balancing Refining Toner
$35 per 3.4 fl oz
Ingredients: Aqua (Water), Hamamelis Virginiana (Witch Hazel) Leaf Extract, Lactobacillus Ferment, Propanediol, Glycerin, Polyglyceryl-10 Stearate, Gluconolactone, Lactobacillus, Ethanol, Fucus Spiralis (Spiral Wrack) Extract, Tetraselmis Chui Extract, Centella Asiatica Leaf Extract, Melia Azadirachta Leaf Extract, Ocimum Sanctum Leaf Oil, Octyldodecanol, Pogostemon Cablin (Patchouli) Leaf Extract, Cocos Nucifera (Coconut) Fruit Extract, Citric Acid, Sodium Benzoate, Potassium Sorbate, Xanthan Gum, Eugenol*
Balancing Clay Mask
$40 per 3.5 oz
Ingredients: Water (Aqua), Lactobacillus Ferment, Butylene Glycol, Butyrospermum Parkii (Shea) Butter, Caprylic/Capric Triglyceride, Glyceryl Stearate SE, Glycerin, Kaolin, Bentonite, Stearic Acid, Oryza Sativa Starch, Lactobacillus, Cetyl Palmitate, Cetearyl Alcohol, Hydroxypropyl Starch Phosphate, Xanthan Gum, Sclerotium Gum, Volcanic Ash, Cetyl Alcohol, Distarch Phosphate, Octyldodecanol, Pogostemon Cablin (Patchouli) Leaf Extract, Fucus Spiralis (Spiral Wrack) Extract, Tetraselmis Chui Extract, Centella Asiatica Leaf Extract, Ocimum Sanctum Leaf Oil, Curcuma Longa (Turmeric) Root Extract, Cocos Nucifera (Coconut) Fruit Extract, Silica, Sodium Phytate, Citric Acid, Potassium Sorbate, Sodium Benzoate, Eugenol*
Balancing Oil Control Cream
$35 per 1.67 fl oz
Ingredients: Water (Aqua), Lactobacillus Ferment, Propanediol, Sodium Stearoyl Lactylate, Prunus Amygdalus Dulcis (Sweet Almond) Oil, Dicaprylyl Ether, Glycerin, Undecane, Oenothera Biennis (Evening Primrose) Oil, Glyceryl Stearate, Cetyl Alcohol, Lactobacillus, Tridecane, Bakuchiol, Astrocaryum Murumuru Seed Butter, Bidens Pilosa Extract, Gossypium Herbaceum (Cotton) Seed Oil, Linum Usitatissimum (Linseed) Seed Oil, Bisabolol, Fucus Spiralis (Spiral Wrack) Extract, Tetraselmis Chui Extract, Centella Asiatica Leaf Extract, Withania Somnifera Root Extract, Xanthan Gum, Sclerotium Gum, Hydrolyzed Sodium Hyaluronate, Ocimum Sanctum Leaf Oil, Octyldodecanol, Pogostemon Cablin (Patchouli) Leaf Extract, Cocos Nucifera (Coconut) Fruit Extract, Sodium Phytate, Citric Acid, Sodium Benzoate, Potassium Sorbate, Tocopherol, Eugenol*
*Naturally occurring in essential oils