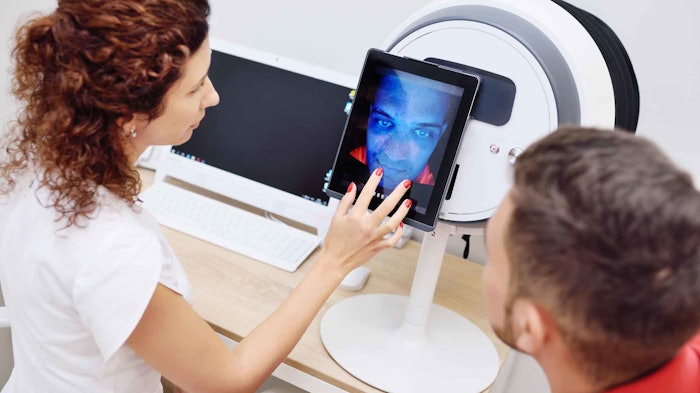 A L'Oréal patent describes the use of previously determined correlations between clinical signs of aging and given biomarkers to generate skin care product recommendations as well as improve those recommendations to address predicted skin trends.
See related: L'Oréal x Verily Launch My Skin & Hair Journey Multi-year Study
Personalized skincare recommendations based on biomarker analysis
U.S. Patent 11741523
Publication date: Aug. 29, 2023
Assignee: L'Oréal
For context, the inventors explain that the medical field has improved by the growing availability of biomarker analysis systems. These systems can operate in an outpatient or clinical setting and can provide a noninvasive measurement of various protein concentrations. These concentrations may then be used for various treatment-related purposes.
Through clinical studies, certain proteins detectable by these biomarker analysis systems have been linked to clinical signs of aging, as well as responsiveness/non-responsiveness to skin care actives and ingredients. For example, biomarkers such as YKL40, TG3, LCN1, IDE, and FLG2 have been correlated with clinical signs of aging and responsiveness such as shiny skin, rough skin, uneven skin tone, eye wrinkles, photo aging, loss of elasticity, dilated pores, and responsiveness to retinol and proxylane. However, the biomarker analysis system only provides raw protein concentration information, whereas L'Oréal has taken these correlations to generate skin care product recommendations and improvements to those recommendations.
See related: Half of Black Americans Say Skin Care Falls Short
More specifically, disclosed in the patent is a computer-implemented method of providing a skin care product recommendation for a subject. The method includes: 1) receiving, by a computing device, protein biomarker concentration information from an immunoassay analyzer device configured to determine protein concentrations by measuring fluorescence; 2) determining, by the computing device, at least one skin trend based on the protein biomarker concentration information; 3) determining, by the computing device, at least one skin care product associated with the skin trend; and 4) presenting, by the computing device, a recommendation of the skin care product via a display.