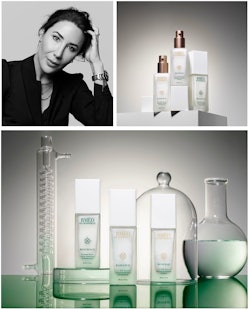 Lisa Goodman, PA, founder of GoodSkin Clinics, has launched RMÉD by GoodSkin, a collection of clean clinical skin care that reflects her medical expertise and ethos of offering clients an "untouched look."
The trio of serums feature sh-oligopeptide-1, which "is considered to be the bioequivalent of the epidermal growth factor (EGF)," according to a 2023 study in the journal Cutaneous and Ocular Toxicology.
The ingredient reportedly supports natural skin cell rejuvenation and revitalization and thereby helps reduce the appearance of fine lines and wrinkles while repairing the skin's overall tone and texture.
The Radiance Serum ($155) comprises tetrahexyldecyl ascorbate vitamin C, peptides, probiotics, niacinamide and bakuchiol to restore skin "to a more youthful state" and impart a healthy glow.
The Renewal Serum ($185) features  +++ EGF, five cell-regenerating algae and actives to restore the skin by targeting a loss of moisture and stressed skin. The formulation reportedly rebuilds the skins' collagen and defense against stressors. It also repairs the skin barrier for longer retained moisture. 
Finally, the Resurface Serum ($125) comprises azelaic, kojic, salicylic and tranexamic acids, as well as probiotics and pumpkin seed extracts. The gentle resurfacing serum reportedly clears imperfections, reduces redness and reveals even smooth skin.