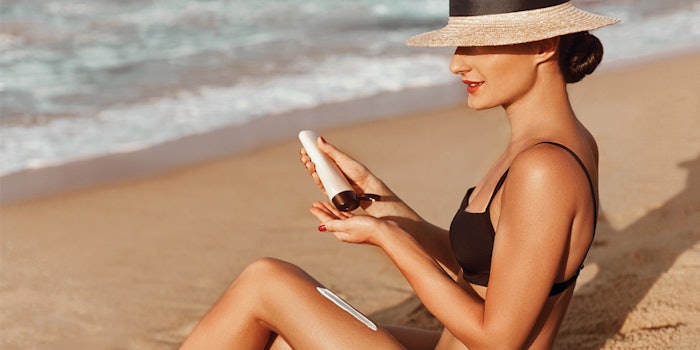 As summer approaches, consumers are grabbing their skin-protective products to combat the sun as they enjoy the beach and warm weather. Of course, as we all know, sun care is an everyday staple, regardless of the season.
To learn more, we reached out to industry insiders to learn about the recent trends in sun care ingredients and packaging as consumer demand fluctuates.
1. Mineral-based formulas
Brian Grady, market research analyst, DSM Personal Care NA, says, "Here at DSM, we have definitely noticed an increased interest in mineral formulations. Brands are reacting to consumer preferences for additional mineral sunscreens options. DSM's insights have found that zinc oxide is a mineral filter that consumers are very familiar with. DSM's zinc oxide, ParsolZX, is a globally approved mineral UV filter designed to deliver maximum SPF, UVA and blue light production with high skin transparency compared to benchmarks. ParsolZX also maintains low viscosity when tested in different emollients, meaning high use levels are possible without compromising on viscosity."
Jennifer O'Hara, global marketing manager sun care, Ashland, says, "For clean beauty, formulators often turn to mineral formulas, which can be difficult to formulate with great aesthetics. We have new data to show that our Antaron polymers can boost SPF of mineral-based formulas. We also discovered that our cellulose-based Natrosol 250 G PC HEC can provide slip to mineral-based formulas."
Wilson Lin, marketing lead, Applechem, says, "We are also seeing the big push toward mineral-only SPF lip balms steadily gaining momentum, to the point where larger retailers are drawing a line in the sand with legacy brands and demanding mineral-only offerings in order to retain shelf space."
For the full article, check out Global Cosmetic Industry's May 2021 digital magazine.