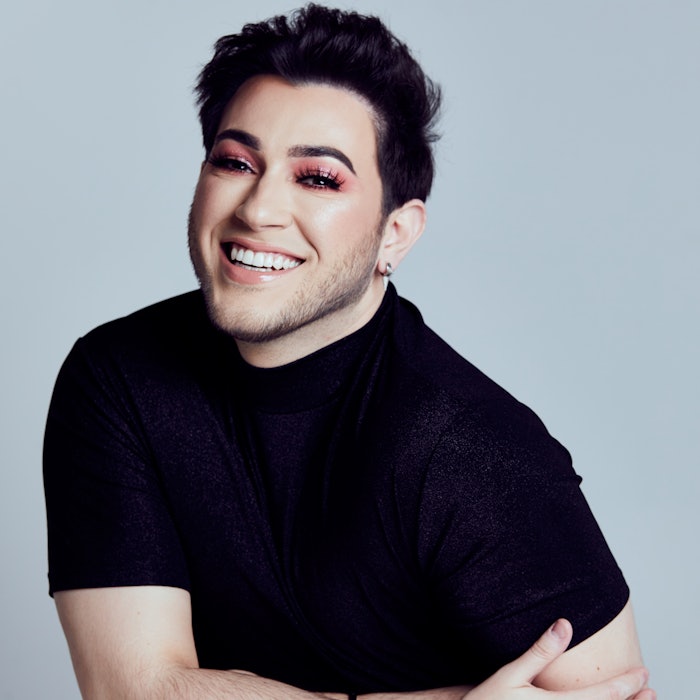 Manny Gutierrez (known professionally as Manny MUA) is a Mexican-American makeup artist, beauty expert, entrepreneur and pioneer in the makeup world for his commitment to blurring the lines of gender in cosmetics. Originally known for his popular and relatable YouTube videos, he made his mark as one of the first male makeup connoisseurs—making history as the first male to be the face of Maybelline.
Gutierrez is the founder and CEO of Lunar Beauty, a cosmetics line for men, women, and everyone in between. It includes a range of products from lip wear to eyeshadows and launched with the Life's a Drag campaign in honor of the Drag Queens that inspired Gutierrez to get into the beauty world. The influencer is also now on Tik Tok, boasting 1.4 million followers and 27.3 million likes, as of this writing.
In 2018, Gutierrez was included in Forbes' 30 Under 30 list for establishing his own beauty empire and being one of the most influential beauty experts on the internet. In 2021, he was honored as AdWeek's Digital Creator of the Year for his entrepreneurial success, and for using his influence for good by teaming with the White House to help spread the science behind vaccination.
Gutierrez has appeared on various television shows including Netflix's Glow Up: Britain's Next Make-Up Star, Disney+'s The World According to Jeff Goldblum, NBC's The Kelly Clarkson Show and YouTube Premium's Escape the Night.
Currently, he stars as the host and mentor in the Snapchat original series Coming Out and will next be seen in the revival of VH1's The Surreal Life. Additionally, Gutierrez is a philanthropist and frequently works with charitable organizations such as the St. Jude Children's Research Hospital (see his fundraiser), the Human Rights Campaign, GLAAD and the Los Angeles LGBT Center.
Check out his Tik Tok, Instagram, and Twitter.
In this interview, Gutierrez shares his mission for fun and diverse content creation on Tik Tok, his inspiration, and how he chooses which brands to collaborate with.
How would you describe your Tik Tok content?
[MG]: My Tik Tok content is more fun and has more of my personality thrown into it compared to my other platforms with more lip syncing and skits, versus my Instagram and YouTube which are still predominantly beauty-focused. 
What is the mission of your Tik Tok content?
[MG]: My mission is to have more fun with the content I create and to make people laugh. We all need to be having more fun on social media, and less of the pressure and negativity that is out there.
What drew you to Tik Tok to begin with?
[MG]: Tik Tok was the new, latest and greatest thing on social media and as a creator, I try to keep up with what's going on and that meant adding Tik Tok as a main platform of mine. I am so happy I did. It's been fun creating and absorbing so much content from super talented creators out there from all genres. 
What do you enjoy posting about the most?
[MG]: I love seeing people's reactions to the content I create. Seeing them smile, laugh and have fun interacting with what I post. It's a two-way conversation for me and my fans, and I feel like Tik Tok really fosters that community so that creators can connect with their followers very easily. 
How often do you post?
[MG]: It depends on the platform. For YouTube and Tik Tok, I post a few times a week. For Instagram, I do stories everyday but post on the feed once a week. 
Where do you get your information from?
[MG]: I think I get most of my news and info from Twitter, actually. The trending section is always fascinating. Thankfully, Twitter now prioritizes reputable sources in their trending section, so you can read more about the trending topics in articles from an accurate source. 
What's involved in creating viral content?
[MG]: I'll let you know when every one of my videos goes viral, LOL. There truly is no recipe or method to a viral video—sometimes it's the videos that I least expect to be super successful that go viral, and often they are some of the simplest videos. Taking my own spin on a Tik Tok trend but adding in a unique, Manny element, always makes for a fun video and often they go viral. 
What inspires you?
[MG]: A lot of things inspire me. My family is my main source of inspiration, and also my friends, my followers, the sky, and astrology—you will see a lot of those inspirations throughout my makeup brand Lunar Beauty's products, such as my moon prism collection. So many things inspire me to keep creating and have fun with this job. 
How do your fans respond to sponsored posts vs. regular posts?
[MG]: It depends. I'll be lucky if I get half of the engagement on a sponsored post as opposed to my normal posts, but my followers are awesome and always rooting for me. I chose brands that are of quality to work with, so the feedback is normally positive, because they're Manny approved and usually brands or products that are beloved by my fans as well. 
How do you decide which brands to collaborate with?
[MG]: I always ask for products early, so that I can test them out to see how I like the products and if I feel comfortable putting my name behind something. If it passes that test, and the brand appears to have good practices, then I'm happy to collaborate with them. 
What are some of your long-term goals as an influencer?
[MG]: I want to diversify my content and create more things that make me happy, not just things that will get views. I think that's important as a creator or it's inevitable that you'll get burnt out. We see so many creators come and go because the job is exhausting, and I think the best way to prevent that from happening is to ask yourself 'Does this content I am spending [my time on] all day make me happy?'
What can your fans look forward to this year?
[MG]: My fans can look forward to more from my brand, Lunar Beauty. I am looking forward to seeing what people think of the launches I have planned. I've worked so hard on them, and hope people will love them. Lunar Beauty is an independent brand that my family and I run, so we put every bit of love into every step of the process. Be sure to stay tuned.
What advice do you have for aspiring influencers and entrepreneurs?
[MG]: My advice would be to network your butt off. Go to events, take that call, join that Zoom meeting, put yourself out there and you will see the difference it makes in your career. Sometimes even if you don't think you need to connect with others, you leave that meeting or event with some of the best and most beneficial connections and expertise. 
What makes a marketing partner fun to work with?
[MG]: I love working with a marketing partner who lets me be myself, first and foremost. There is nothing worse than working with a brand that will not let you have a say or do what you want. It's what my followers like and follow me for, so let me be me and you will see the difference in the deals' performance.