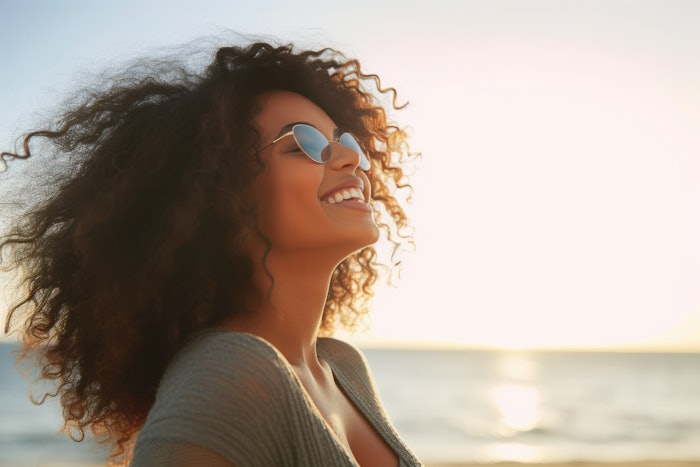 This month, Global Cosmetic Industry spoke to an array of suppliers across categories to better understand the trends driving ingredient and formulation innovation. Here's what they had to say. 
Sun Care 2023
High SPF Protection
Irina Agro, microbial protection business development manager, NA, Ashland, says, "There seem to be two interconnected trends dominating the sun care market these days: higher SPF protection and a shift towards inorganic SPF actives. Both trends are a result of rising consumer concerns around skin and overall health. Over the last few years, consumers have gained a better understanding of the damage that sun exposure is able to impart and are becoming more savvy in how to mitigate it, while still enjoying their time in the sun. In parallel, on top of existing environmental concerns surrounding organic UV filters, a lot of information (albeit oftentimes not entirely scientifically backed) has come out regarding potential negative health effects of these SPF actives, prompting a shift in consumer preference for more mineral-based sunscreen formulations. The shifts towards higher SPF and mineral formulations bring with them an increased challenge in preservation. Higher SPF formulations, and those containing high solid content, are notoriously difficult to preserve, especially considering the formulator's ever-shrinking preservative toolbox. Ashland's latest Microbial Protection product launch, Phyteq Raspberry One multifunctional, a synergistic multifunctional blend featuring raspberry ketone, was specifically designed as a one and done microbial stabilization system for sunscreens. It features consumer friendly ingredients, delivers impressive preservation efficacy, and can provide value-added anti-aging and antioxidant claims in formulation."
Kristie Ford, director, sun care solutions, Hallstar Beauty, says, "Consumers' preference for both higher SPFs and increased naturality is a challenge for formulators. Sun care brands are looking for solutions to meeting performance requirements in the face of increasing regulation. With the recent banning of traditional UV filters like oxybenzone, oxycrylene and octinoxate from sunscreen formulation, developers have more limited ingredient options, especially if they want to create high SPF products with pleasant sensoriality at a reasonable price. At the same time, consumers are gravitating towards healthier lifestyles, and they've become more mindful of the products that they're using, including their sun care products. They are questioning ingredients, looking for formulations that they can feel good about using. In light of this, consumers may seek out 'natural' indicators in terms of label claims or ingredient lists to determine if those products satisfy their own standards. The definition of 'natural' sun care can vary broadly—to some, it means helping preserve planetary biodiversity; for others, it might be about ingredients that are safe for sensitive skin."
Ford continues, "To meet the demand and comply with regulations, many sun care brands are turning towards mineral UV filters such as zinc oxide or titanium dioxide because they're perceived as safer on both consumer and environmental health. From Hallstar's perspective, organic and inorganic filters can be equally safe if formulated with proper photostabilizer and functional ingredients, and if they are used appropriately by the sunscreen user. With the rising trend of holistic, self-care practices, consumers are prioritizing sun care that is pleasurable to use. Consumers want effective UV protection but it's critical that their sun care formulations spread smoothly, deliver a pleasant skin feel, dry smoothly and don't cause whitening. This is becoming increasingly important as sun care is no longer limited to beachwear and UV filters are more commonly integrated into daily wear skin care products -- part of a holistic, preventative approach to address signs of aging for healthier skin. It's reasonable to expect that formulations with improved aesthetics help encourage consumers to apply more product. That product then has a better chance to perform at the SPF level on its label."
Ford concludes, "The increasing importance of skin tone inclusivity in cosmetics drives the demand for invisible coverage from sun care products. In addition, the global zinc oxide market is on the rise as beauty brands and formulators look to the mineral filter as a solution for creating broad spectrum sun care products without the use of regionally banned UV filters. However, zinc oxide presents a set of challenges for formulators aiming to achieve high SPF while also providing a pleasant skin feel and low whitening. The newest addition to Hallstar Beauty's mineral dispersion line, HallBrite ZDX Clear, was intentionally designed to provide ease in formulating zinc oxide systems and confidence in achieving high sun protection performance while delivering impressive transparency."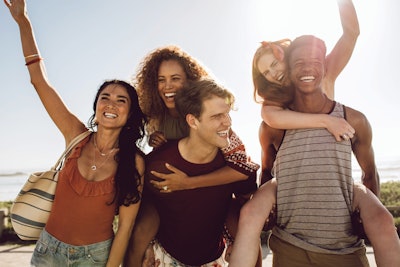 Skinification
Brian Grady, senior marketing specialist, dsm-firmenich, says, "The skinification trend continues to emerge in sun care, as many new product launches have multiple benefits. These products are sun and skin care hybrids that include beneficial ingredients like niacinamide, vitamin C and hyaluronic acid that provide useful benefits such as the reduction of fine lines and wrinkles, improvements to elasticity, decreases the appearance of age spots and immediate hydration. These are the typical benefits that consumers are actively looking for in the products they purchase. dsm-firmenich's QUALI B Niacinamide PC reduces the appearance of lines and wrinkles, improves elasticity and helps protect from UV and blue light damage for beautiful and healthy looking skin. STAY-C 50 (INCI: Sodium ascorbyl phosphate) helps to protect from photo damage as well as improves skin firmness and visibly evens the skin tone. HYA-ACT XS (INCI: Hydrolyzed hyaluronic acid) is a very small molecular weight hyaluronic acid (37 – 56 KDa) that provides intense hydration, improves skin elasticity and makes wrinkles inconspicuous. All of these ingredients deliver benefits that would typically be found in skin care products."
Grady continues, "Parsol Shield (INCI: Bemotrizinol) is a photostable broad-spectrum filter which efficiently provides UVB and UVA protection across the full range of application forms at low concentrations. It has demonstrated excellent compatibility with both organic and inorganic UV filters and is readily compatible with other Parsol UV filters. US FDA GRASE determination for Parsol Shield is expected in 2024. Upon approval, Bemotrizinol will be the first UV filter approved in over 20 years in the [United States] and in accordance with new FDA Safety testing guidelines."
Sustainability
Sven Klare, technical manager applied innovation sensory additives, cosmetic solutions, Evonik, said, "Consumers today expect sustainable sunscreen formulations that are both sourced from renewables and biodegradable. They connect sunscreens directly to their ultimate environmental fate in the ocean and expect, for example, reef-safe UV filters. Ultimately, this trend will lead to a fully circular sunscreen, which we at Evonik are already supporting with our natural emulsifiers, film formers and emollients. We recently launched TEGO FILMSTAR One MB, our first natural film former that provides water resistance for all types of formulations with SPF protection. TEGO FILMSTAR One MB is based entirely on renewable resources and is readily biodegradable, helping our customers to meet their sustainability goals in sun care."
Skin Care 2023
Roni Rot, CEO, Jojoba Desert, recently spoke to Global Cosmetic Industry about skin barrier repair and clean beauty. 
"In recent years," he says, "two prominent trends in skin care ingredients have emerged. Firstly, there is a strong focus on skin barrier repair, which highlights the importance of natural, ethical, and effective ingredients in protecting and rehabilitating the skin. Secondly, there is a growing preference for clean beauty, with consumers becoming more conscious of the products they use and their impact on the environment. A robust skin barrier is crucial for maintaining healthy and youthful-looking skin. It provides protection against external stressors like pollution and UV radiation while retaining water to keep the skin hydrated and deliver vital nutrients. When the skin barrier is compromised, it can lead to or worsen various skin conditions such as eczema, psoriasis, rosacea, and acne. Therefore, the demand for ingredients that support skin barrier function has significantly increased. Another noteworthy trend is the shift towards clean beauty. Consumers are now more mindful of sustainability and the environmental impact of the products they incorporate into their skin care routines. This has led to a rise in the demand for sustainable ingredients that align with their clean beauty values. One notable skin care ingredient launch is JD Phyto-Or 1% by Jojoba Desert. This innovative product addresses the concerns and trends mentioned earlier. JD Phyto-Or 1% (INCI: Simmondsia chinensis (jojoba) seed oil; Blakeslea trispora mycelium extract/C30-45 olefin) is a natural active skin repair solution that enhances skin elasticity and improves skin tone. It combines JD Jojoba oil with concentrated Phytoene, extracted from a non-GMO fungi, using a solvent-free process and controlled fermentation pathway. This ingredient offers exceptional benefits for both skin and hair, reducing vulnerability to oxidation and preventing oxidative stress-induced damage and inflammation stimulated by UV irradiation and pollution. JD Phyto-Or 1% protects the natural hydro-lipid skin barrier, evens skin tone, reduces wrinkles by enhancing elasticity and firmness, and improves overall skin smoothness. It is a clear, low-viscosity, oil-soluble yellow liquid suitable for a wide range of skin care applications."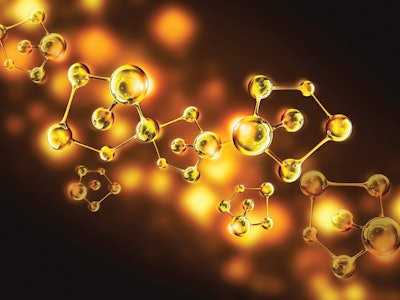 Color Cosmetics Ingredient Trends
Skin Care Benefits
Jill Manning, director of marketing, Cosmetic Group USA, says, "Color cosmetics with efficacious skin care benefits continue to be the most popular requests from our brand partners. These formulas include product forms with a unique sensory experience and a wide spectrum of nude shades that resemble skin-like colors. Customer preferences for complex aromas from extracts and natural botanical oils also continue to be popular. Liquid blush with moisturizing benefits from hyaluronic acid and organic natural oils such as rosehip seed oil and moringa oil."

Lisa Bouldin, senior marketing director—personal care and specialty markets, Sensient Beauty, says, "A key color cosmetic trend that continues to build, is the hybridization of makeup with skin care; as consumers are wearing foundations, highlighters, pigment infused serums daily, as part of their beauty routines, they are seeking skin care benefits from these products. This demand is creating a category of supercharged beauty products, delivering activity—and healthy, lit from within from dewy color, high gloss for eyes/for lips—and claims from SPF to moisturization to anti-aging. Coming out of the pandemic, a euphoria trend has also emerged with consumers focused on celebrating all things that bring them joy and comfort. In the color category, this is evident in experimentation with bold, bright colors, embellishments of color and jewels on the skin; multidimensional formulations. Expressive creativity and freedom in the color cosmetic category is the obvious area to celebrate this. Sensient Beauty has launched a new range of surface treated pigments using extracted and upcycled aloe leaves, infused with coconut oil. Our Aloe Surface Treatment is a natural, hydrophobic, easy-to-disperse ingredient offering high pigment load and excellent spreadability. It improves moisturization and is ideal for long-lasting make-up formulations, with superb coverage and a velvety touch, allowing the formulator to supercharge any color formulation. Sensient also introduced new pearlescent pigments into our Covapearl range—both natural and synthetic mica based pigments, as well as chromatic, color 'traveling' pearls, addressing the Euphoria color trend that is everywhere currently."
Clean & Natural
Tom DiPietro, vice president of research and development, DayGlo, says, "The global trend of investing in cosmetics to enhance personal and professional appearances is on the rise. As a result, cosmetics manufacturers are striving to meet the growing demands of consumers and expand their market share. To achieve this, manufacturers are focusing on providing the right colors and products that satisfy customers' desires while adhering to high quality standards and promoting innovation. By maintaining stringent compliance measures, cosmetic color manufacturers can introduce new and exciting products, ensuring their success in the industry for years to come."
DiPietro continues, "Furthermore, there is a notable increase in the demand for color cosmetics that incorporate clean and natural ingredients, especially when it comes to cosmetic pigments and dyes. Consumers are becoming more conscious of the components used in their beauty products and are actively seeking formulations that are free from harmful chemicals and potentially irritating substances. The emphasis is now on sourcing pigments and dyes from clean, natural, and sustainable sources, with a preference for plant-based materials and mineral pigments. This shift highlights the importance of meeting the demand for clean and eco-friendly options in the cosmetics industry."
DiPietro adds, "Introducing Elara Luxe, an exciting new collection of cosmetic colorants by DayGlo Color Corp. This exceptional range stands out, boasting a variety of remarkable features. What sets Elara Luxe apart is its impressive 97% natural composition, derived from rice protein, making it a sustainable and environmentally friendly option for clean beauty enthusiasts. Notably, these colorants are entirely free of microplastics, addressing concerns about plastic pollution and meeting the demands of conscious consumers. The versatility of Elara Luxe colorants is truly remarkable, as they can be seamlessly incorporated into a wide range of cosmetic products. Whether it's lip gloss, lipstick, lotion, soap, face paints, temporary hair color, or nail lacquer, these colorants blend flawlessly into different formulations. Elara Luxe eliminates the need for consumers to compromise between sustainability and color vibrancy. With an extensive palette of shades available, this line ensures that there's a perfect match for every style and preference. If you're searching for clean and sustainable beauty products that offer a remarkable range of vibrant colors, Elara Luxe pigments are the ultimate choice."