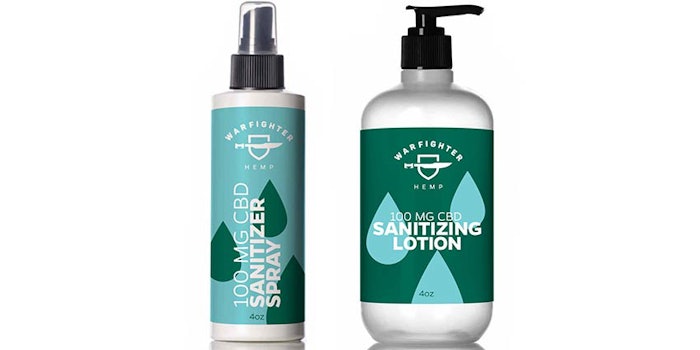 Warfighter Hemp has launched an antiseptic sanitizer gel and spray containing CBD and CDC-recommended levels of ethyl alcohol to help combat COVID-19. This debut comes as the need to limit exposure to COVID-19 escalates and hand sanitizer shortages continue taking place nationwide.
Further reading: U.S. FDA hand sanitizer rules.
Additionally, for every sale of Warfighter Hemp Antiseptic Sanitizer gel or spray, a bottle will be donated to first responders, hospital workers and other front line persons who are leading the battle against the coronavirus. These donations will be sent by the case to those entities who have pre-registered with the brand.
Warfighter CBD Antiseptic Sanitizer Spray is available in 4 oz (400 mg CBD distillate) or 8 oz (800 mg CBD distillate) sizes. Ingredients include: 80% ethyl alcohol (the CDC minimum recommendation for ethyl is 60%, according to the company), glycerin, water, lavender oil and hydrogen peroxide. The addition of industrial hemp-derived CBD is said to provide skin-calming and skin-normalizing effects that may help minimize issues related to skin sensitivity, including redness and reactivity. 
While handwashing is the most effective way for people to slow and prevent the spread of viruses, the use of ethyl alcohol-based hand sanitizer can augment hygiene, for example when shopping in the grocery store or when there is not access to soap and water.
Help for Veterans
According to the company's website, the Veterans Health Administration (VHA) is the largest integrated health care system in the United States, providing care to over nine million veterans. The average age of veterans is 58—many with underlying health issues—making this one of the most vulnerable demographics to the coronavirus.
"I went online looking to purchase some hand sanitizer for my family and what I found enraged me," Lt. Col. (ret.) Steve Danyluk (USMC), founder, Warfighter Hemp, said. "There was virtually nothing available, and what was available was so exorbitantly priced it should be criminal. That's when I talked to my partner, Henry, at the farm in Colorado and found out he had been thinking about the same thing."
"Because we use organic ethyl in the extraction process when separating CBD from industrial hemp, ethyl is an ingredient which we have an abundance of at the farm," Henry Strazza, COO for Warfighter Hemp, said. "Knowing that sanitizer is in high demand but limited supply, we worked a plan quickly to offer our CBD sanitizer lotion for those who need it most: our nations veterans in the VA health care system."
Danyluk, who created Warfighter Hemp to offer alternative solutions for veterans struggling with PTSD and chronic pain, also said, "By giving this product away for free to veterans, we are definitely taking a financial hit. However, if it prevents the death or severe illness of just one veteran, then it is the right thing for Warfighter Hemp to do."