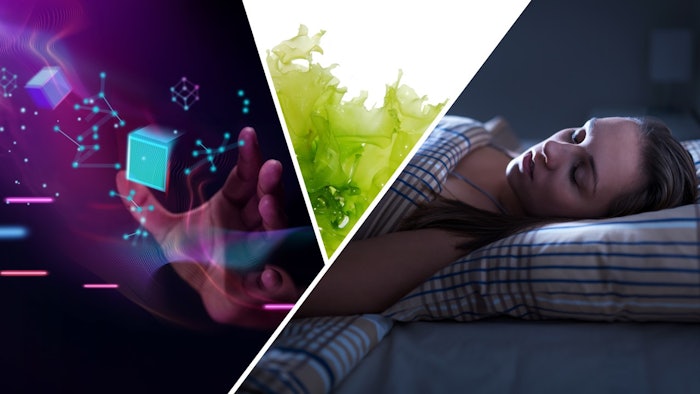 Key beauty and personal care trends for 2023 and beyond include the rise of synthetic biology-derived ingredients, diagnostic tools, holistic care and phygital experiences, according to a new report from Mintel. 
1. Beauty Rx
Mintel's Beauty Rx trend charts the intersection of consumer efficacy demands and emerging technologies in diagnostics, product application and more.
As noted elsewhere, consumers' focus on value has led to a rise in popularity for clinical skin care brands. In fact, 53% of U.S. beauty and personal care consumers research beauty ingredients to understand product effectiveness, per Mintel.
To meet this demand, suppliers and brands will need to invest in high-efficacy biotech, as seen with the recent L'Oreal-Microphyt algae tech deal.
Consumers will also want to access solutions that address their particular hormonal shifts, as seen with brands such as State of, and leverage diagnostics, as seen with the JC Penney-Revieve AI skin care selection tool.
Other opportunities include personalized vitamins and supplements as well as emerging gene editing tech and skin microbiota transplants.
2. Evolved Self-Care Beauty
Mintel's next trend encompasses everything from self care to sexual/intimate wellness to, again, hormone-focused solutions.
The firm notes that "72% of U.S. consumers say society's idea of beauty is too rigidly defined," leading to a desire for more holistic options.
This could include community-minded offerings as well as solutions for sleep and blood circulation as part of a whole-body beauty approach.
3. New Rules Of Engagement
The final 2023 trend from Mintel comprises opportunities for brands to engage consumers in new ways.
Despite the return of physical retail, consumers will increasingly expect "more playfulness, experimentation and DIY," per Mintel.
These elements can boost engagement, led by tools such as RFID (radio-frequency identification).
Avery Dennison has noted, "With RFID, shoppers can interact with your product in a way that goes beyond the point of sale." The firm added that this tech "enables brands and retailers to connect and communicate with consumers via their products. By assigning each item a 'digital personality,'  brands can transform their marketing efforts, increasing customer engagement while also capturing real-time data and consumer insights for every product, from manufacturing to end-of-life."
Other tools cited by Mintel include digital avatars, as seen with Ready Player Me x L'Oreal, and the metaverse, as seen with Nyx x Roblox.
Tools to merge physical and digital experiences include AR and VR, Mintel points out, both of which have been incorporated into brand activities in recent years.
Mintel concludes, "While the rules of the metaverse are still being worked out, its strengths lie in the communities that it builds and how people engage in them."