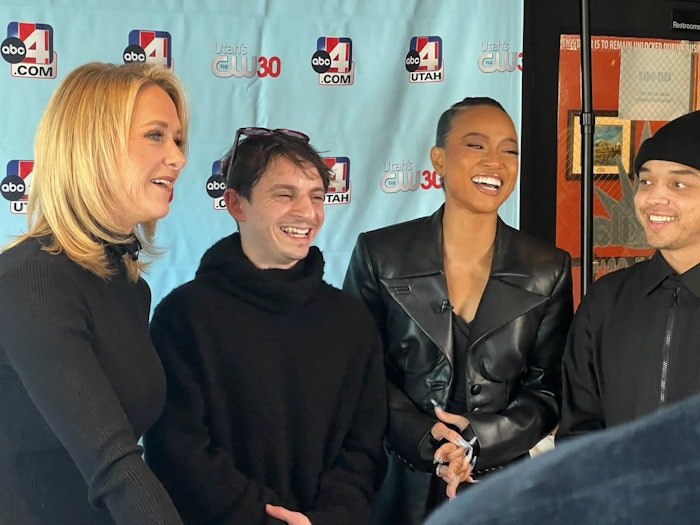 ECOLUXE Lounge, Daisy Beltran & Vanessa Holt
There were a variety of exciting programs at Sundance this year, each with their own special activations. I truly believe Sundance has huge potential for beauty marketers because the event draws very influential change agents, storytellers, celebrities, and the people behind the scenes from attorneys and accountants to makeup artists and photographers. Participants come from around the world for nonstop meetings, screenings, skiing and partying in a picturesque, yet relatively cold and high altitude environment, all of which require beauty support.
Although no beauty brands were official sponsors of this year's Sundance, some managed to get in on the action and I had the pleasure of experiencing what they had to offer. These companies provided unique and luxurious treatments, services and products for those who needed relief from the stressful hustle and bustle at the festival, especially for celebrities who needed to recuperate and look their best. For them, Sundance became a beauty and wellness retreat and there was something for everyone. 
HigherDOSE, a leading brand in biohacking inside-out wellness and beauty offered a pop-in spa at The Wrap photo lounge during opening weekend. They offered mini detox, "recover and glow-up sessions featuring their best-selling hero technology: the infrared pemf mat, infrared sauna blanket and red light face mask.  
Fiona Hillery, head of brand experience at HigherDOSE, says, "We were thrilled to be a part of Sundance for the first time. Makeup artists were very willing to post about our award-winning technology. We have a passionate fan base in the community who use infrared and red light for red carpet. We helped the people that needed it most to be sustained throughout the Sundance Sprint." 
Several celebs loved the facial so much that they went home with the signature masks to rejuvenate again on the way home. Others requested infrared blankets to be sent to their homes for detox. 
Brandon Wright of Roth Ivy who hosted the Wrap during the Sundance Film Festival says, "We are always trying to instruct our clients to give swag they would use. For instance, we like to gift luggage or a bag, high end cosmetics, functional apparel or functional tech. Most companies miss the boat on gift giving."
It's important to ask oneself, what would you want? What will you remember? What do you talk about? Keep in mind it's best if the gift is personal, less is more. You can absolutely create relationships through gifts. Products sell themselves if they are good. 
Wright said, "What would you rave about? Everything, even the most mundane, if presented the right way has that potential.  For instance you can give away light bulbs or create the most amazing light installation which becomes an everlasting memory. Marketers have to be creative and assess what will realistically make it into a carry-on suitcase."  
Ericka Nicole Malone Entertainment invited "selected filmmakers, true entertainment professionals and tastemakers" to a day of stories and conversations with Indie filmmakers and musicians along with a night of performances by award winning R&B artists.
They were given many products, one being Ra.D8 Collagen Sparkling Tea. Ra.D8 skin soda supports glowing and healthy skin with a sparkling infusion of synergistic clinically proven ingredients to fight UV damage.  Gifting also supported brands such as House of Broadnax Beauty, MediTEAtions Manifest LOVE, Detox blends and more. With its beautifully built-out space dripping in art deco elegance featuring chandeliers, candles, furs, fragrant florals, white leather furniture, shag carpets, gold statement pieces, and beyond, the experience won't be forgotten. 
One of the gems of Park City is the bVital Spa which has many ahead of the curve technologies. They had a suite at the tip of Sundance where Crystal Tones Bowls were played, and guests could make appointments for soundbaths. While I got acupuncture from a bVital practitioner, they did a private concert for me that they said made the needles even more powerful.  
Lifewave patches were given to VIPs. I experienced its IceWave patches to relieve back pain. 
The experiences were ones to never forget. These brands are paving a new road to recovery in the health and wellness sphere with their wonderful and impactful products and services. I'm really looking forward to what Sundance and these brands have in store next year. 
Nancy Trent (http://www.trentandfcompany.com/; mailto:nancy@trentandcompany) is a writer and speaker, a lifelong wellness activist, a globe-trotting trend watcher, and the founder and president of Trent & Company, the leading wellness PR firm. Trent & Company, which launched many health and beauty brands, grew out of Nancy's personal and passionate commitment to helping people live longer and healthier lives. A former journalist for New York magazine, Nancy has written seven books on healthy lifestyles, serves on the editorial boards of several magazines and travels around the world speaking at conferences and trade shows on trends in the marketplace. She is a recognized expert in PR with more than 30 years of experience creating and managing highly successful campaigns.