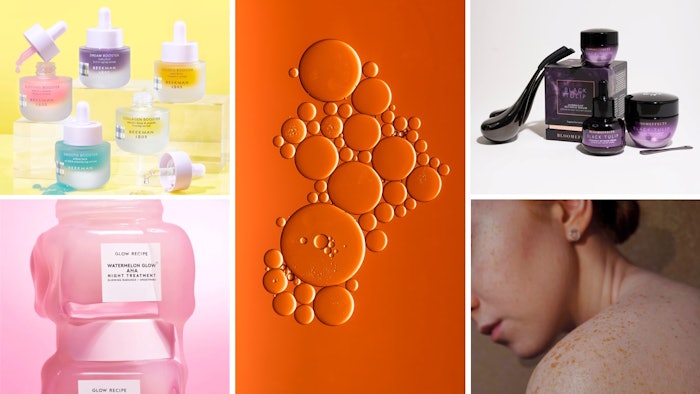 Prestige skin care sales grew 12% in Q2 2022, totaling $1.7 billion, per NPD, signaling strong engagement in the category. NPD's Larissa Jensen noted at the time, "Skin care brands are upping the ante, by using ingredients like vitamin C, retinol, and algae that are traditionally found in facial products." To get a better sense of where skin care is going in 2023 and beyond, Beauty Accelerate 2022 NYC will present a range of experts from J&J, Bloomeffects, Beekman 1802, Glow Recipe and Solawave. 
Skin Immunity
Self-care has taken priority in recent years due to the abundance of stress caused by the pandemic. This has drastically accelerated the pre-pandemic focus on health and wellness, with an added spotlight on immunity.
The rise in popularity of products to increase immunity and skin health will be discussed by Sabrina Henry, R&D manager of skin health for Johnson & Johnson (J&J) Consumer Health, during Beauty Accelerate 2022. 
As a and scientist brand ambassador for Aveeno, Henry speaks about her role and elevates the science behind the brand on various media outlets. She has been featured on Aveeno's latest TV commercial: Healthy. It's Our Nature, ESSENCE Magazine, USA Today and Instagram, to name a few. She holds a master of engineering in engineering management and bachelor of engineering in chemical engineering from Stevens Institute of Technology.
Henry's session will describe the development of topical products to reinforce skin health and bolster immunity. Topics will include how to integrate micronutrients and natural ingredients to strengthen the skin moisture barrier and support skin health; ways to formulate mild cleansers and soothing moisturizers to balance the microbiome; and more.
>>>Register now for the best rates.<<<
Tik Tok Famous Skin Care
Solawave's founding duo, Andrew Silberstein and Eli Bailey will also take the stage at Beauty Accelerate 2022.
Mashable noted that the brand is "Tik Tok famous," while Harper's Bazaar recently declared, "the SolaWave Bye Acne: 3 Minute Light Therapy Spot Treatment is an excellent match to its lifting and radiance-enhancing sister device, the Advanced Skincare Wand with Red Light Therapy, and worth adding to any skincare rotation."
The brand is also a favorite of celebrities like Reese Witherspoon and Mandy Moore.
Tulip-based Beauty
Bloomeffects founder Kim van Haaster will also be on hand to discuss growth and innovation.
Bloomeffects' tulip-based skin care has also garnered widespread praise, with Bustle exclaiming "I Replaced My Retinol With Tulip-Based Skin Care & Now I'm Hooked," while Stylist explained "why tulip skincare is the key to plump, dewy skin."
Bloomeffects recently relaunched its Tulip Dew Cream with a reformulated oil blend enriched with essential fatty acids to help retain moisture, reinforce and smooth skin's surface.
It also launched the Black Tulip Collection, comprising upcycled material from black tulip petals, which are rich in flavonoids.
>>>Register now for best rates to this can't miss two-day event.<<<
High-growth, Goat-centric Skin Care
Jill Scalamandre, CEO, Beekman 1802, will also take the stage at Beauty Accelerate 2022. Beekman 1802 is known for its skin-friendly ethos; Healthline even praised the brand for its efficacy in addressing eczema.
The brand has scaled up its goat-milk-centric skin and body care brand, expanding to Ulta Beauty, opening a second LaGuardia airport store, launching a buzzy Bridgerton collaboration and, most recently, by launching a mobile skin biome analysis tool.
The brand was acquired by Eurazeo in December 2021, with Scalamandre joining thereafter, setting up Beekman 1802 for its next phase of growth.
Sustainable & Beloved Skin Care
Lauren Chan, director of marketing for Glow Recipe, and the co-founders of Kate McLeod are set to take the stage at Beauty Accelerate 2022. Attendees will have an opportunity to listen in live as these two distinctive brands discuss the secrets to success in beauty.
Glow Recipe is, according to Stylist,  "positively always the talk of the town over on TikTok," which helps explain how co-founders Christine Chang and Sarah Lee "turned their friendship and $50,000 into a $100-million business," per CNBC.
The brand has been praised in Vanity Fair, while SELF declared Glow Recipe's Strawberry Smooth BHA and AHA Salicylic Serum the "Best Facial Exfoliant" of 2022.
Meanwhile, Harper's Bazaar recently declared "Glow Recipe Just Launched Our Favorite New SPF 50 Sunscreen" upon the launch of the brand's Watermelon Glow.
>>>Registration is now open; sign up now for best rates.<<<
Kate McLeod and Nichola Gray, co-founders of  water- and plastic-free beauty brand Make McLeod, will speak to scaling an at-home small business into a seven-plus-figure operation in three years, as well as the evolution of the clean beauty industry. They will also offer insights into establishing major retail partnerships.
In its short lifespan, the brand has launched the Face Stone solid moisturizer and expanded to Sephora.
Forbes declared This Solid Moisturizer Is A Godsend For Pregnancy Self-Care, while The Strategist called it The Lotion Bar I've Gifted to Myself, My Mom, and My 88-Year-Old Grandmother.
Kate McLeod left a career in finance to become a pastry chef, called off a wedding and returned to reunite with her first love, found solace on a yoga mat, and accidentally stumbled into the world of skincare via a chunk of cocoa butter. Kate uses her classical culinary training to harness the power of natural ingredients and transform them into award-winning, zero waste products. She currently lives in the Hudson Valley with her husband Justin and two children, Oliver and Margaux.
Co-founder Nichola Gray is an experienced operator with a passion for problem solving and innovation who leapt at the opportunity to join Kate McLeod in bringing her business out of her kitchen and into the world. Gray has led the company's efforts to scale its made-from-scratch manufacturing capabilities and double down on its sustainability initiatives. 
>>>Register now for best rates to this can't miss two-day event.<<<