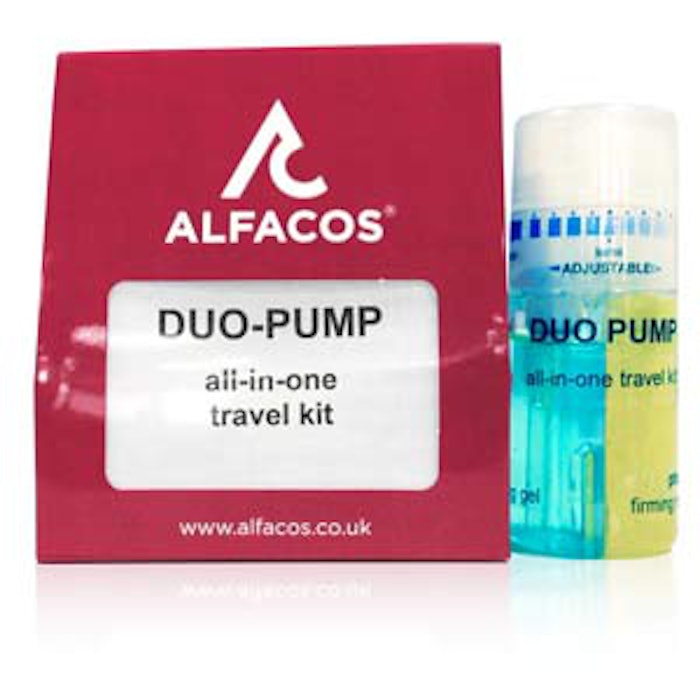 VariBlend, has announced its customer, Alfa Chemicals Ltd, is a finalist for the Society of Cosmetic Scientists' (SCS) new Laura Marshall Memorial Award for the year's Most Innovative Cosmetic Product.
The Duo-Pump All-in-one Travel Kit from Alfa Chemicals contains a hydric and lipidic gel, stored separately and designed to work together to produce a range of different skincare products depending on the proportions of each used. Alfa's platform, which allows consumers to choose the dosage of each gel and thus formulate a custom-made product on-the-go, utilizes the Variblend dual dispensing system. The products can be instantly combined by massaging them together at the moment of application, into a smooth and stable emulsion. The added benefit of the VariBlend dispensing system is that the amount of each phase delivered from the pump can be altered easily using the dial. The desired product can therefore be selected by the user depending on personal preference.
According to the SCS, the selection of the Alfa Chemicals product was made by an independent panel of judges. These leading innovations will be on display at the SCS Formulate exhibition, the UK's largest event of its kind.
"Our approach to dispensing holds tremendous appeal in categories where it is important to vary the ratio of a two formula blend," said Robert Brands, president and CEO of VariBlend. "It is an ideal brand-builder for categories such as skin care, sunless tanning, hair care, and more."
The Variblend system, which can also be fixed at specific settings, allows for precise delivery of two formulas of varying viscosities and flow rates. Simply rotating the dispenser head allows the consumer to select multiple formula strengths. As the dispenser head is rotated, it changes the position of the actuating disc, which interacts with the pump pistons. When actuated, this disc pushes each pump piston at different angles depending upon the selected mixing ratio.