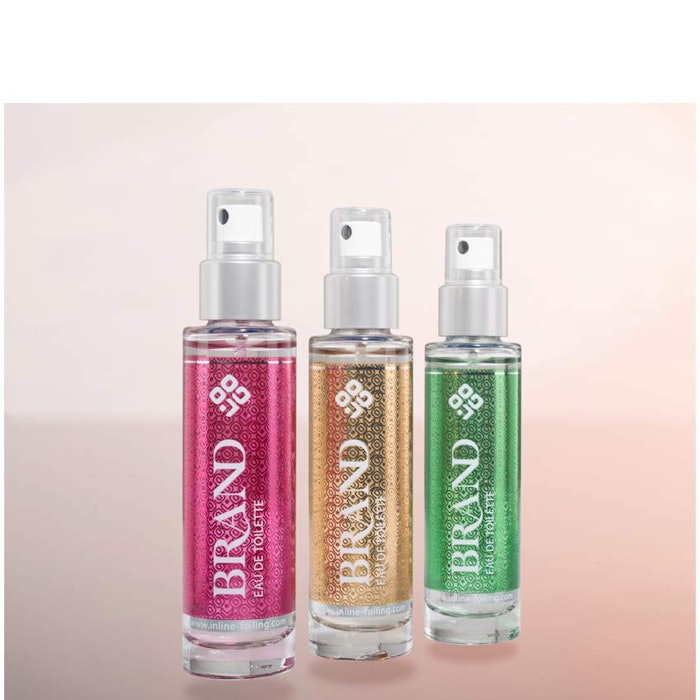 Leonhard Kurz, a specialist in packaging decoration, will be presenting a whole host of ideas for current and future packaging refinement, especially decoration processes for a variety of materials.
From September 21-23, 2016 at Luxe Pack Monaco, Leonard Kurz will feature new finishing technology called "Metallized Heat Transfer," which allows Kurz to produce metallized and individualized multi-color designs for its customers. This process provides a cost-effective way of adding decorative serial numbers, barcodes, QR codes or personalization to packaging.
Inline Foiling 
The company will demonstrate the latest examples of high speed decoration using Inline Foiling, a process that can conjure brilliant metallic effects onto glass and plastic containers. Inspiring overprinted metallic designs for paper and card stock can be produced using the cold foil transfer technology, which will also be displayed. A special highlight will be the "Foil on Fabric" series, featuring flacons and bottles that have been covered with foil-finished and overprinted materials.
Step Up to Hot Stamping 
Another topic at Luxe Pack Monaco will be the future of hot stamping, with novel holographic designs that exhibit optical illusions with their spectacular depth effect or tactile effects. The Digital Metal process, which was developed by Kurz, will be demonstrated through refined perfume packaging and a serialized pharmaceutical packaging.
Personalizing the Whole Package 
Trade show visitors will be given the opportunity at 9:30 am on September 22 to attend a round table on the topic of "Personalizing your Packaging," which also addresses Digital Metal finishing technology. Stefanie Schmid, a product manager at Kurz, will give a presentation on the possibilities for uniquely decorating products and tailoring them to individual consumers using the company's Digital Metal finishing. 
Virtual Connections 
At the Kurz booth DB 11 in the Diaghilev Hall of the Grimaldi Forum, visitors to Luxe Pack will be able to familiarize themselves with the latest design trends and technical innovations. Kurz at Connect2Luxury. Kurz will also be represented at the special event Connect2Luxury, which focuses on digital transformation in the luxury segment. At its booth AC 33 in the atrium of the Grimaldi Forum, Kurz will be demonstrating the connection of the real and virtual worlds.
Specifically, Kurz will present a virtual reality (VR) headset that allows visitors to immerse themselves in the fascinating virtual world, and interactively explore an imaginary environment. They will be able to retrieve information from a virtual smart phone, which is similar to how they can access product data via a Kurz app in the real world.
Read more about technology in packaging in Global Cosmetics Industry.