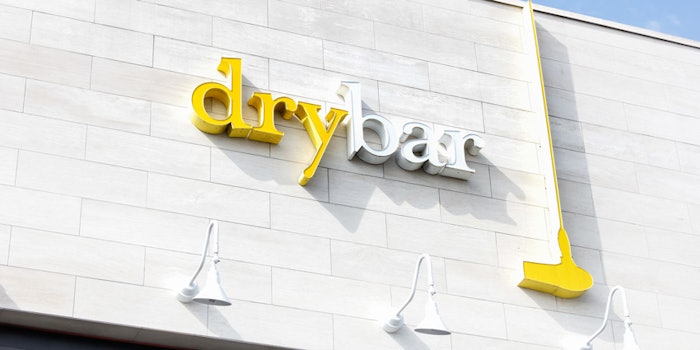 Author's note:
This article was written in a pre-COVID-19 world. Since then, virtually all the brands mentioned in this piece have closed their doors, without solidified reopening dates. Some have had to furlough or lay off their teams. Some are engaging their guests through enhanced social media content. Some have created crowdfunding campaigns to help support their team members during these challenging times. I believe all will reopen stronger and better than ever before in a post-COVID-19 world. Will everything be the same as before? I doubt it—but these brands will thrive in whatever our "new normal" ends up looking like.  
When Alli Webb launched Drybar in Brentwood, California, in 2010, she was not only innovating in the salon industry (think: simplicity, convenience, approachability and affordability), her brainchild was going to have a significant impact on the entire beauty industry.
Over the past decade, several "Drybars of" have emerged in the facial care industry. I speak from experience, as my family launched Forever Boutique in Lausanne, Switzerland, a Drybar-like space created to make medi-spa treatments more approachable, more convenient, more attractive and less intimidating to a younger demographic.
The following is an overview of the leading "Drybars of the beauty industry" with multiple U.S. locations (in alphabetical order so no one's feelings get hurt!).
Drybar of Botox: Alchemy43
Launched in 2016 and benefiting from $3.2 million seed investment, including funding from Drybar co-founders Alli Webb and Michael Landau and Forerunner Venturesa, Alchemy43 has four locations—three in Los Angeles and one in New York City—with the goal of rolling out 50 stores throughout the United States.
With its aspirational yet accessible vibe, Alchemy 43's customer base skews under 35, with millennials as a key demographicb. The menu focuses on injections ranging from Botox to fillers to B12 shots and "Pimple Killer" boosts, as well as limited peel options to restore radiancec.
Instagram: @alchemy43 (16.2K followers at the time of printing) 
Drybar of Makeup: Blushington
Blushington was founded a few years ago by 21-year old Stephi Maron. The idea Blushington came about after Maron and her girlfriends could not find an adequate group makeup spot for a Bat Mitzvah—i.e., department store makeovers come with the obligation to purchase, and a makeup artist is often prohibitively expensived. 
The services offered at Blushington have expanded to include its Peel Bar, eyelash extensions and more. Additionally, pricing options for services include memberships.
With six locations in California, New York and Texas, the company offers a variety of skin and makeup products, choosing female-founded and female-led brands preferentially. Coincidentally, Blushington locations are strategically placed near Drybars, and clients are referred between the two brands.
Instagram: @blushington (65.8K followers at the time of printing )
Drybar of Facial Workouts: FaceGym
With the tagline "It's not a Facial, It's a Workout," FaceGym was founded in 2016 by former beauty journalist Inge Theron in the United Kingdom to target the 40 often-forgotten muscles of the facef.
Trainers (not estheticians or therapists) perform various massages and manipulations of the face meant to help tone, enhance glow, stimulate collagen production and improve the overall look of your skin.
FaceGym was created to give guests "a sculpted-looking face without necessarily going under the needlef."  Last year, the company launched its own line of skin care products featuring Training Sticks, aka serums.
In 2019, Theron was quoted as saying, "FaceGym's revenue target for 2019 is between $12 million and $14 million. The company has grown from 25 to 80 people in two years and will reach 100 employees by the end of the yearg."
With seven U.K. locations and four locations in the United States (one in LA and three in NYC, including Saks and Nordstrom), Theron is actively expanding with the goal of being "the Peloton of beautyg."
Instagram: @facegym (128K followers at the time of printing)
Drybar of Facials: FaceHaus 
Opened in late December 2013 in Studio City, California, FaceHaus offers 30-minute facials for $40 or lessh. The company now operates 10 locations across California, New York and Texas.
The chain is the creation of Jenn Worley (formerly vice president of creative affairs for Radar Pictures), Karey Burke (formerly co-owner of television production company Dark Toy Entertainment) and Dawn Olmstead (formerly EVP of development for Universal Cable Productions,) who once spent $500 on facials for their daughters and thought there had to be a better wayi. 
The no-nonsense approach to facials has appealed to men, with up to 30% of male clientsi in certain locations and inspired its tagline "Facials for the People."
Harold Lancer, M.D., F.A.A.D., acts as FaceHaus' consulting dermatologist. 
Instagram: @facehaus (14.7K followers at the time of printing)
Heyday  
Don't call Heyday the "Drybar of anything" or a "spa." Rather, Heyday is a facial establishment that offers "expert skin care with a human touch," focusing on customized facials and skin care education*.
Founded in 2015 by former investment banker and Aussie Adam Ross and Michael Pollack, Heyday's first location opened in the NoMad neighborhood of NYC. Since then the company has grown to 10 locations in NYC, including a store-in-store in Nordstrom. Other locations can be found in LA and Philadelphia, with more locations expected to open in the LA area as well as in the Northeast.
Estimates suggest that the 300-person team performs more than 11,000 facials per month, and that up to 60% of customers are referrals from existing clientsj.
The company has raised approximately $11 million in capital, from various venture capital groups, including CircleUpk.
Instagram: @heydayskincare (46.5K followers at the time of printing)
Drybar of Laser Facials: Skin Laundry
Founded in 2013 in Santa Monica, California, by Yen and Julian Reis, Skin Laundry aims to provide 15-minute laser facials.
The company has performed more than 500,000 treatmentsl, which are based on a proprietary combination of NdYAG laser and IPL (intense pulsed light) machines. The company also has its own proprietary skin care brand, sold in its own locations, online and at retail.
With 22 locations in the United States and one in London, revenues of $17 million in 2018 and a new CEO, Gregg Throgmartin, Skin Laundry has set its sights on international expansion, with plans to open a location in Dubaim.
Instagram: @skinlaundry (72.5K followers at the time of printing)
Drybar of Massage: The Now
Founded by jewelry designer Gara Post in November 2015, The Now focuses on "restoring your body and resetting your soul"n and is based on our need to disconnect physically and mentally from our fast-paced, digitally overloaded liveso.
With four locations in LA and plans to debut in Austin, Denver, Chicago, Scottsdale, Arizona and Raleigh, North Carolinap, The Now offers massages in both communal rooms (seated massages) and private rooms (full-body table massages), in time increments that start at 25 minutes and run $45. The company's expansion model is based on franchising.  
Instagram: @thenowmassage (40.5K followers at the time of printing)
Drybars of the Next Generation
Clearly, the field of "Drybar of" is thriving, and new beauty concepts based on approachability, affordability, simplicity and convenience continue to emerge.
Keep your eyes on:
Glowbar, which specializes in facials and currently has one location in NYC. Instagram: @glowbar (9,469 followers at the time of printing)

WTHN, which specializes in acupuncture and currently has one location in NYC. Instagram: @wthn (22.3K followers at the time of printing)  
Footnotes: 
a)    www.forbes.com/sites/clareoconnor/2017/12/13/woman-led-drybar-for-botox-chain-alchemy-43-grows-with-drybar-founders-backing/#6f934573532e
b)    www.fastcompany.com/40584086/can-this-drybar-of-botox-disrupt-the-cosmetic-injectables-biz
c)     www.alchemy43.com
d)    www.forward.com/life/style/391777/jewish-owned-beauty-bar-chain-blushington-promises-a-luxe-makeover-for-less/
e)    www.blushington.com/
f)      www.fastcompany.com/40547973/the-worlds-first-face-gym-wants-to-make-your-head-sweat
g)    www.glossy.co/new-face-of-beauty/facegym-takes-a-page-from-peloton-as-it-plans-u-s-expansion
h)    www.laconfidentialmag.com/face-haus-transformation-facial
i)      www.latimes.com/fashion//la-ar-face-haus-quick-facials--20140220-story.html
j)      https://observer.com/2019/05/heyday-adam-ross-interview/
k)     https://medium.com/founders-process/adam-ross-heyday-from-investment-banking-to-personalized-skincare-1ef3a146bc04
l)      https://coveteur.com/2019/04/10/skin-laundry-founder-yen-reis-laser-facial/
m)   www.glossy.co/beauty/under-new-leadership-skin-laundry-focuses-on-international-expansion?utm_medium=email&utm_campaign=glossydis&utm_source=daily&utm_content=200128
n)    https://thenowmassage.com/about/
o)    www.forbes.com/sites/margauxlushing/2019/02/28/how-the-now-founder-gara-post-designed-las-most-stunning-self-care-oasis/#4f2a4d4d1b04
p)    www.prnewswire.com/news-releases/the-now-massage-primed-for-national-launch-300960373.html
*Disclaimer: Heyday carries some Alchimie Forever products