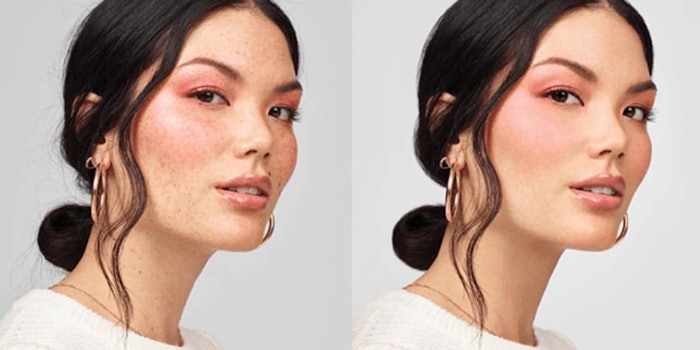 CVS Pharmacy, CVS Health's retail division, is getting closer to its goal of full transparency for all beauty imagery by 2020.
The company has announced that, one year after launching its Beauty Mark Initiative, nearly 70% of beauty imagery in CVS Pharmacy locations nationwide will be CVS Beauty Mark compliant.
At an event held in Times Square Jan. 24, 2019, the company unveiled a first look at its updated beauty aisles. Among the guests were Ayesha Curry, who appears digitally unaltered in a campaign for Covergirl's Outlast Lipstick; Kerry Washington, a Neutrogena brand ambassador; and Revlon brand ambassador Ashley Graham, along with several other ambassadors who also appear unaltered in images from their campaigns.
Related: [Slideshow] Inside the CVS Beauty Makeover
Along with CVS Pharmacy  locations, all beauty imagery—including brand partner imagery—used on the company's website, social media and in external advertising and promotions will reflect the CVS Beauty Mark commitment. Additionally, the company has instituted a contractual requirement for beauty influencer partners to create and share only imagery that has not been digitally altered or uses filters.
"As a purpose-led health care company as well as the second largest beauty retailer in the country, we want the millions of customers that visit CVS Pharmacy locations each day to see a more authentic and diverse representation of beauty," said Kevin Hourican, president of CVS Pharmacy. "We applaud the brand partners that truly embraced this initiative and helped us in taking significant steps forward in our effort to change an industry standard that has an impact on the health and self-esteem of our mutual customers."