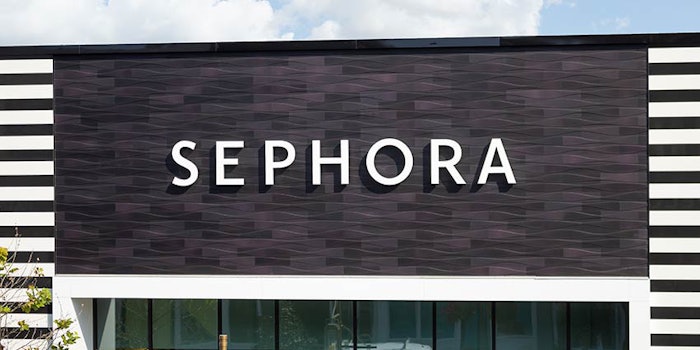 Sephora and the Environmental Defense Fund (EDF) have partnered to address ingredients "that are known to cause environmental and health impacts from products." The goal, according to the EDF, is to remove "chemicals of concern" from Sephora's own brands and those of its brand partners.
Report: Sephora clean product launches.
Under the program, Sephora committed to reduce 49 "high-priority chemicals of concern" in products it sells by 50% in three years by replacing them with "safe" alternatives. The company's high-priority list consists of 49 chemicals. As of now, 94% of products sold on sephora.com have no high-priority chemicals, per EDF, representing a 14% year-over-year reduction.
Sephora's entire program update can be read here.
Safer ingredient alternative assessment portfolios were developed in partnership with EDF and ChemFORWARD for four major cosmetic ingredient groups on the high-priority list - preservatives, benzophenones, ethanolamines and cyclic silicones. To date, safer alternatives have been assessed for 73% of Sephora's high-priority chemicals.
The retailer will also provide information on ingredients for 100% of beauty and personal care products by end 2020, excluding fragrance components.
Sephora has reportedly shared ingredient information for 95% of its products on sephora.com, a 13% increase over the course of a year.
EDF notes that consumer awareness regarding ingredients is growing, particularly among the sought-after demographics of Gen Z, Gen X and millennials.
"We launched Clean at Sephora to better help our clients navigate the large assortment of product choices across prestige beauty. In partnership with our brand partners, Clean at Sephora prioritizes consumer health, by aiding our beauty community to make more educated choices regarding chemicals" said Carley Klekas with Sephora. "We're working with Environmental Defense Fund to close the gap on safer products at Sephora."
"Consumers should have access to safe products whether they shop at a local boutique or a big box store," said Boma Brown-West, senior manager of consumer health at EDF. "Sephora is leading the beauty and personal care industry to a future where all products are made with the safest possible ingredients for people and the planet."