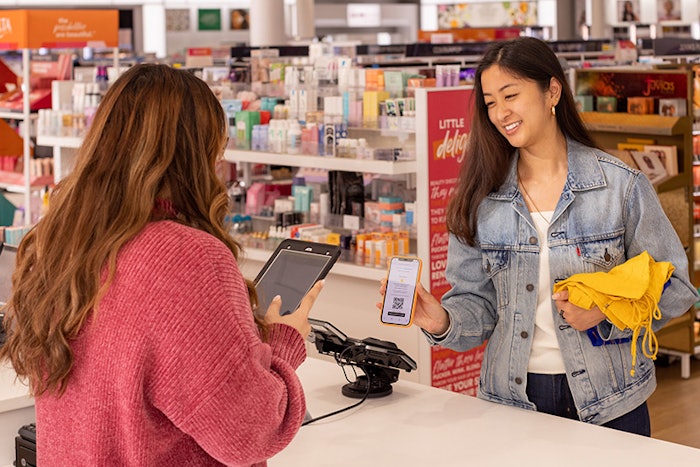 Ulta Beauty is partnering with PayPal Checkout to adopt the Happy Returns Return & Exchange Portal, automating the customer returns process. Meanwhile, the retailer will co-develop an AI-driven skin scan platform with Haute.AI to generate personalized product recommendations for shoppers.
Previously: Branded's Micro E-commerce Business Acquisition Strategy
PayPal Checkout x Ulta
Ulta will add PayPal Checkout return bars at more than 1,300 locations nationwide; this brings the total number of Return Bar locations to more than 5,000. As a result, 78% of Americans will live within a 10-mile radius of a Return Bar, per PayPal. The expansion will take place throughout 2022.
The Happy Returns return and exchange portal software is being adopted at no additional cost to Ulta, per an official announcement.
Consumers can access the returns portal from their own phones and devices or at store kiosks. Once the exchange/return process is completed, the customer receives a QR code. 
When returning items, shoppers need only bring the product; no box or receipt is required, only the QR code. The Happy Returns software allows shoppers to choose preferred Return Bar locations. The platform reportedly automates returns and exchanges by generating exchange suggestions based on return reasons and store inventory. The platform thereby facilitates an automated exchange or a refund. 
"Returns from multiple merchants are aggregated into a reusable tote, reducing shipping costs and making the process more sustainable by eliminating cardboard and lowering carbon emissions," per PayPal.
Report: Target Launches Target Zero Program
According to PayPal, more than 70% of shoppers choose to visit a Return Bar instead of returning by mail when given the option.
Simplifying the returns process will allow Ulta to address escalating return rates, which have risen 20% amid escalating online shopping. (Per PayPal, "American consumers returned over $218 billion of online purchases in 2021...")
"Though consumers have increased their frequency of online shopping, returns are commonly an 'in person' experience and are costly and challenging for merchants," said David Sobie, vice president of Happy Returns by PayPal. "Our partnership with Ulta Beauty widens our in-person drop off network and gives online shoppers more options to complete returns—Return Bars bring 
Seamless exchanges reportedly help retailers retain revenue that might otherwise have been lost, per a testimony by Niran Chana, president, international at apparel brand Gymshark.
Merchants can run reports of returns data and respond to returns-related customer inquiries in real time.
The interface is accessible in the EU and Canada and offers eight languages (responses are automatically translated for merchants).
"As return volumes continue to increase, this is a crucial time for merchants to implement efficient and cost-effective solutions that better equip them to manage the growing role returns play in retail," said David Sobie, vice president of Happy Returns by PayPal. "By offering the Happy Returns software free of charge, we are delivering a post-purchase solution for merchants that helps them retain revenue and gives them a competitive edge in today's market."
"We are thrilled to welcome Happy Returns to the Ulta Beauty family to deliver our guests greater convenience," said Kecia Steelman, chief operating officer, Ulta Beauty. "Our pilot with the innovative return platform reinforced the value simplified, in-person returns offer consumers and retailers alike. We're encouraged by the increased store traffic and in-store engagement the partnership drives. This is a winning opportunity for our guests, our brand and Happy Returns."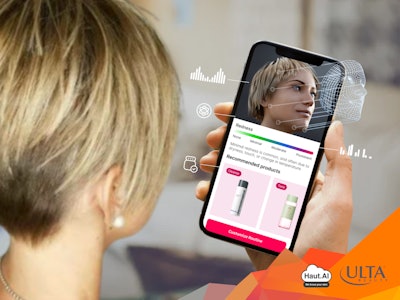 Ulta Beauty x Haut.AI 
Meanwhile, Ulta Beauty and Haut.AI are working to co-develop a personalized artificial intelligence engine for skin health and beauty product recommendations based on a skin scan/analysis technology.
The platform (details not disclosed) will feature "enriched data, skin algorithms, simulations and improved recommendations," per Haute.AI.
"Our teams are laser focused on imagining–and reimagining–the most engaging guest experiences across every Ulta Beauty touchpoint," said Prama Bhatt, chief digital officer, Ulta Beauty. "As industry leaders, we are thrilled to bring forward innovative solutions that serve our guests and cannot wait to see how our partnership with Haut.AI will deliver for guests as we marry our passions for personalization, data-driven technology and beautiful possibilities."
"An AI-based system that can identify skin issues is not a novelty today," said Anastasia Georgievskaya, chief executive officer, Haut.AI. "We recognize the next big step is how consumers experience these systems. Our solution is highly accurate and with Ulta Beauty, we will create an AI engine to address consumer skin needs early to prevent deterioration, while tailoring recommendations to individual preferences spanning texture, smell, brand values and preferred ways to shop. Who said science-backed, AI-powered skin care can't be fun?"