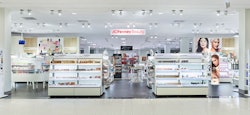 JCPenney Beauty will expand into more than 600 JCPenney stores nationwide by spring 2023. 
The national rollout builds on the flagship partnership with Thirteen Lune, a first of its kind, e-commerce destination designed to inspire the discovery of BIPOC-founded beauty brands that resonate with people of all colors.
Championing the beauty of inclusion, Thirteen Lune's presence will be spotlighted in stores across the country and comprises roughly 20% of the JCPenney Beauty assortment.
Beginning in October 2022, JCPenney Beauty will expand from its 10 brick-and-mortar pilot locations to 300 stores by early 2023 and 600 stores by spring 2023. 
The new online JCPenney Beauty experience includes a virtual makeup try-on and skin care quiz to help customers find products for their unique beauty needs.
Since launch, JCPenney Beauty has onboarded nearly 100 new brands of which more than 60 are BIPOC- and/or female-founded, with dozens more looking to join in the months ahead. 
Recently, the retailer partnered with Revieve to offer AI-powered skin care adviser experience and true-to-life AR-powered makeup try-on capabilities. JCPenney's Skincare Advisor features Revieve's proprietary Skin Diagnostics technology and AI-powered product recommendations. 
Michelle Wlazlo, executive vice president and chief merchandising officer, JCPenney, said, "Inclusivity is core to JCPenney. We exist to celebrate and serve America's diverse, working families which is why we are leading the charge to foster beauty inclusivity on a national scale. By creating a fully ownable beauty experience, JCPenney can quickly adapt and respond to our customers' wants and needs. Last year's preview launch allowed us to learn from our customers and evolve the JCPenney Beauty experience as it expands nationwide and online, making it unlike any other beauty retail experience."
Nyakio Grieco, co-founder, Thirteen Lune and founder, Relevant: Your Skin Seen said, "Thirteen lune's partnership with JCPenney Beauty is rooted in our companies' shared mission to ensure hyper-inclusive beauty is represented in the industry and easily accessible to people, no matter where they live. Together, we are leading the way for diverse beauty to establish its place at the forefront of retail, enabling customers to find brands that reflect their unique beauty and discover inclusive brands they love and can stand behind."