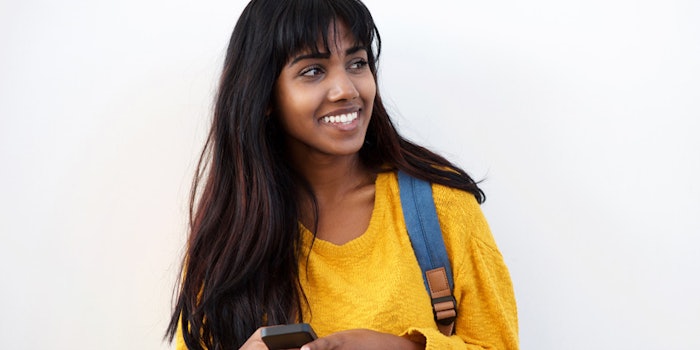 Whether they're looking for the wedding makeup look, an anti-aging skin care routine or a new hair color shade, consumers constantly flock to Pinterest in search of the latest beauty and personal care trends. 
In 2018, Pinterest announced that it was going to offer pinners skin tone ranges, an inclusive search feature on the web to narrow beauty results. Now, that feature is launching across millions of searches and will also be available via mobile device. 
Global Cosmetic Industry spoke with Vikram Bhaskaran, global head of vertical strategy at Pinterest about the ways beauty brands can leverage the platform's inclusive search feature, how Pinterest impacts the path to purchase and the beauty brands that are currently finding success on the social network. 
Global Cosmetic Industry: How can beauty brands successfully leverage Pinterest's inclusive search feature?
Vikram Bhaskaran (VB): Developing diverse and inclusive content is critical to ensuring a brand's products are visible to consumers who are looking at Pinterest for inspiration on products that match their skin tone. Brands should focus on creating Product Pins that showcase their products across various skin tones to reach a broader audience. On the back-end, we develop tags tied to specific skin tones so consumers can search for and discover more personalized Pins and videos.
Global Cosmetic Industry: What is the next step to provide pinners with an inclusive experience on Pinterest?
VB: We're just touching the surface of what's possible with inclusive AI and building more personalized recommendations over time. We launched skin tone ranges as a more inclusive way to search in response to Pinner feedback and trends we were seeing on the platform. For example, last year, nearly 60% of the top 100 search terms for skin-related searches involved a tone, such as dark skin, pale skin, olive skin, showing us that women of all types wanted a way to customize their searching.
We have also learned from Pinners that they pull out Pinterest when they're looking for new products to buy, or when they're trying out to makeup tutorials at their bathroom mirror, or need to get inspiration at the salon, which is why we most recently launched the feature on mobile. We continue to be committed to making Pinterest feel as relevant as possible to every person who uses it, so that each time they open it, it feels like the ideas have been handpicked for them.
Global Cosmetic Industry: According to the November 2018 Gfk Path to Purchase Study, 86% of beauty and personal care Pinners made a purchase based on seeing beauty and personal care content from brands on Pinterest. What does this mean for brands?  How can they better take advantage of Pinterest and its influence over consumers?
VB: Pinterest is a visual discovery engine. People come to Pinterest with an open mindset, and they're actively looking for inspiration on what to do or buy next. What's more is that Pinterest has the largest, most engaged digital beauty audience with over 52M monthly Pinners actively engaging with beauty content on Pinterest. This presents a massive opportunity for beauty and personal care brands to connect with consumers and drive them to purchase.
The key is creating compelling content. Promoted videos are a great way to deliver content that both inspires and engages consumers. Last year, we also introduced support for videos at maximum width, which are ~4x bigger, spanning across Pinterest's two-column grid, and this format has proven to be very successful. Advertisers have seen efficient costs-per-view and lifts in brand awareness methods.
Another great way for beauty and personal care brands to make the most out of their content on Pinterest is by leveraging our Audience Insights tool. Audience Insights helps brands understand what their existing and potential customers are interested in based on their behavior on Pinterest. With this information, brands can then sharpen their targeting, test and optimize campaigns, and duplicate the top-performing campaigns and ad groups. 
Global Cosmetic Industry: Can you provide any information on beauty brands currently working with Pinterest that have experienced success?
VB: Perfume and cosmetic company Guerlain was launching a new fragrance, La Petite Robe Noire Black Perfecto and wanted to support the advertising campaign with unique digital creative with the goal of reaching women in search of a new perfume. Leveraging stating Promoted Pins and Promoted Video Pins, Guerlain developed iconic content that put the new fragrance and its logo front-and-center.
The Promoted Pins generated more than 50 million impressions. They also saw a lower cost per impression (CPM) as compared to other digital channels. Promoted Video Pins earned a reach of over 6 million people. The team also ran a Millward Brown Brand Lift Insights study and learned that ad recall saw a lift of over 23%.1
Another brand is City Beauty. Leading up to the 2018 holiday season, the luxury functional beauty brand wanted to increase online sales for their top-selling product, City Lips plumping lip gloss. They turned to Pinterest and they took a test-and-learn approach to polish their creative and hone their targeting strategy. They tested multiple Pin variations before identifying a clear winner. City Beauty also tested a number of targeting strategies, experimenting with different interest groups, keywords and demographics.
City Beauty's campaign maintained an impressive 3x return on ad spend from November 2018 through the holiday season. They earned a 5% higher click-through rates on Pinterest than on other digital platforms. This campaign also beat City Beauty's own benchmark on Pinterest, earning them a 5x lower cost per impression (CPM) than they'd seen before.2
Footnotes:
1. Millward Brown Brand Lift Insights study, 2018
2. City Beauty data, 2018