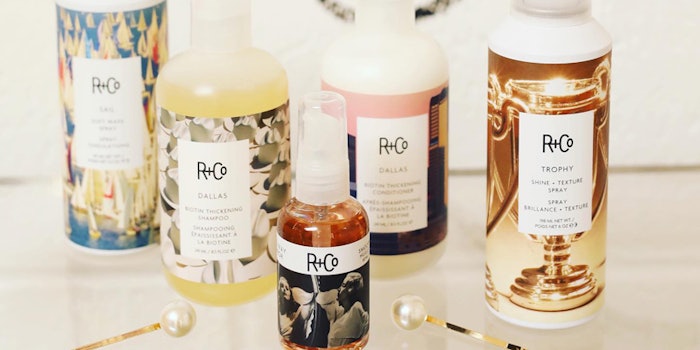 R+Co has launched Hair Mail, a pro-only product recommendation tool that allows stylists and salons to create and share personalized hair care recommendations with clients, while earning affiliate commission.
Related: Fashwire Launches Digital Beauty Marketplace 
The app allows stylists to curate a virtual shopping cart of R+Co product assortments for anyone, anytime. 
Hair Mail has been added to the R+Co Love Affiliate Program, a concept designed to help R+Co partners bring in extra revenue by earning commission through unique referral links.
Daniel Langer, R+Co president, said, "Hair Mail is all about creating connections between stylists and customers beyond the salon. Have you ever left somewhere not knowing how to recreate the style or use something you bought? Now you can just open your email or text and get a refresher. Hair Mail also allows customers to get their products delivered directly to their homes, based on their custom prescriptions."
Langer added, "We launched R+Co Love last year as a program for salon owners and stylists to create virtual connections with customers. This was critical when salons were closed and clients were sitting at home for months with no access to haircuts, color or products. Hair Mail is an extension of that program–building off those strong relationships crafted. The launch of Hair Mail, combined with pre-sale exclusives, unique consumer content and 24/7 access to the team, helps ensure that the R+Co Love affiliate program continues to support salons in navigating an uncertain and unpredictable environment."