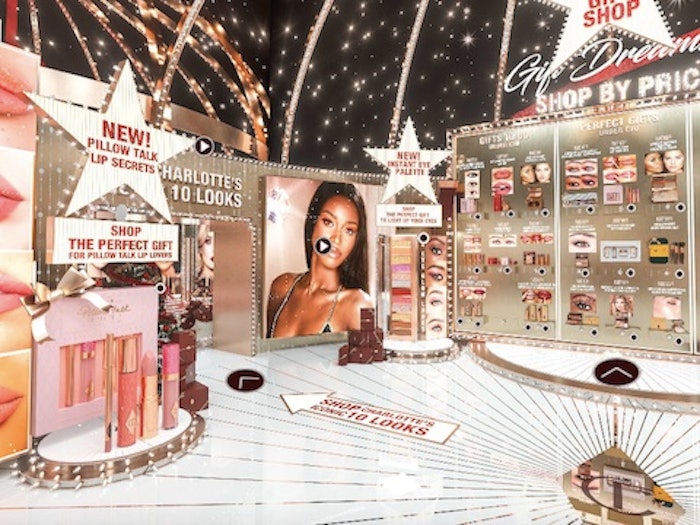 Obsess is adding a new feature to its e-commerce service—Shop with Friends—that enables consumers to shop as a group in 3D virtual stores.
Related: Augmented Reality and Virtual Shops Boost Beauty E-commerce
Shop with Friends allows groups of consumers to see and hear one another as they navigate the virtual environment separately or together, just as they might in a multiplayer videogame.
Charlotte Tilbury is one beauty brand partnering with Obsess, allowing groups to jointly browse virtual immersive islands in Charlotte's Virtual Beauty Gifting Wonderland on charlottetilbury.com. Users can opt to view a live video feed of the other participants on the side of their screen or hide the feed to see the virtual store in full-screen mode.
Charlotte Tilbury, founder, president, chairman and CCO of Charlotte Tilbury, says, "My three-dimensional Virtual Beauty Gifting Wonderland is at the center of the Charlotte Tilbury metaverse this holiday season. It combines all the sparkle and retail theatre of our stores with the ease and portability of the digital universe to unveil a truly immersive Charlotte Tilbury experience. Customers will be guided by my Magic Charlotte avatar to enjoy the magic of in-store from the comfort of their own homes. Digital innovation is at the heart of everything we do, and I am so excited that we can bring this beauty tech to life for you to shop and play this holiday!"
Neha Singh, founder and CEO of Obsess, says, "In the real world, so many of us love to go shopping with our friends as a social outing, but, until now, no one has been able to re-create that group experience online. Our Shop with Friends video feature lets groups of friends navigate virtual stores together and talk to one another in real-time to share advice and inspiration, just like we do when shopping in physical stores. Many younger shoppers have grown up interacting online with friends in video games and esports and this feature brings the best elements of the gaming world to the experience of digital shopping."