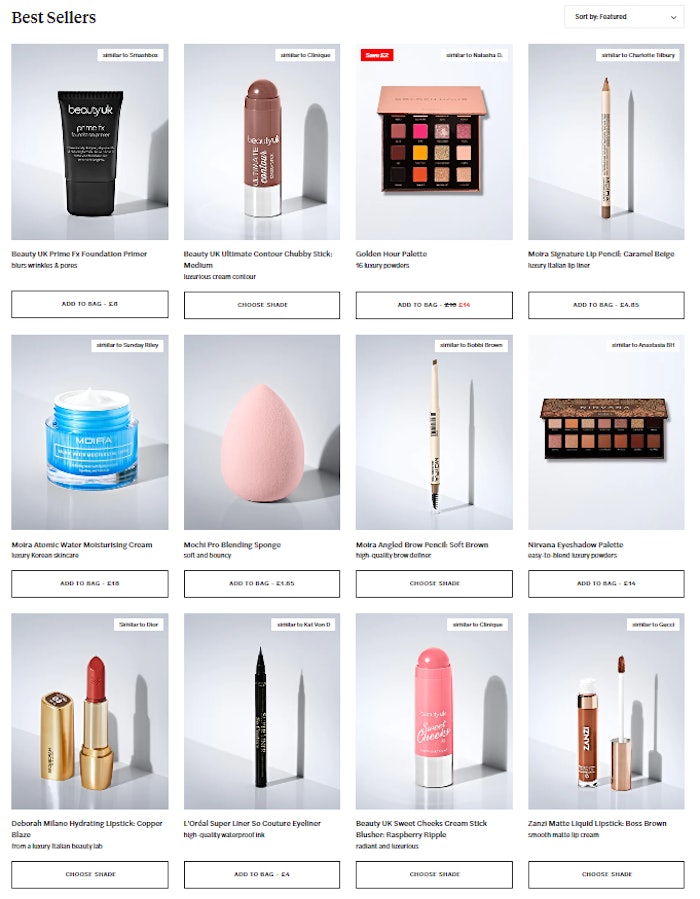 Among U.S. beauty buyers who are reducing overall spend due to inflation, 70% are not cutting back their spend in beauty, per Circana. That said, all shoppers love a deal, while those facing financial hardship are certain to seek affordable products in a pinch. This creates a rich environment for beauty dupes, and Dupeshop Beauty believes it's ideally positioned to capture shopper interest.
The U.K.-based ecommerce platform presents dupes, or low-cost equivalents to existing premium beauty products, that have reportedly been assessed by experts to ensure efficacy and value for shoppers.
"Dupeshop's team consists of cosmetic scientists, luxury product manufacturers, professional makeup artists and skin care experts," says co-founder Laghu Bhardwaj. "With this experience and knowledge in our team, Dupeshop can compare ingredients, performance and longevity between affordable alternatives (dupes) and high-end products accurately. Additionally, we test products on multiple participants and use that data to also help determine whether the affordable product is a worthy alternative."
Launched in January 2021, the platform is designed to "save people money on their beauty routine without having to compromise on performance or quality," per the company. In 2022, the platform boasted 200% growth.
Dupeshop has gone viral across social media, according to Bhardwaj, beginning with TikTok, where the platform has gained more than 150K followers.
That initial virality reportedly led to a U.K.-wide sell-out of the Garnier SPF Face Fluid Sun Cream, which was presented as a dupe for a La Roche Posay SPF face cream, as well as the Maybelline Lifter Gloss, a supposed dupe for Fenty Beauty's Gloss Bomb.
At the moment, Bhardwaj says Dupeshop's top-performing categories are:
Foundation

Perfume

Mascara

 
One of Dupeshop's best-selling products at the moment is the $17 Nirvana Palette, which, according to Bhardwaj, "is extremely similar to the very popular $45 Anastasia Beverly Hills Soft Glam Palette."
According to Bhardwaj, financial hardship (and not just deal-hunting) drives usership on the Dupeshop site: "We have heard from many consumers how much Dupeshop has helped them throughout a financially difficult time. Because of Dupeshop, they have been able to sustain high-quality beauty routines whilst spending less."
She continues, "Consumers also tell us they use dupeshopbeauty.com because they want to make smarter purchasing decisions for beauty products. Consumers are becoming more aware that affordable cosmetic products sometimes can have the same level of quality as products from expensive luxury brands." 
The platform has also taken off on Facebook, Instagram and, YouTube and Pinterest, signalling its cross-generational reach, which spans Gen Z, millennials and boomers.
"When we first launched, most of our shoppers were Gen Z," says Bhardwaj. "However, as we have grown, we've learnt that Dupeshop's appeal transcends generations from Gen Z up to baby boomers. Everyone loves a good deal!"
Across platforms, Dupeshop now boasts more than 800K followers, while the platform's product recommendations have been viewed more than 50 million times. It also ranks first on Google for perfume dupe searches.
In addition, per Bhardwaj, "Dupeshop's impressions are on average 1.83 million a month ... Dupeshop's product recommendations have been viewed over 52 million times."