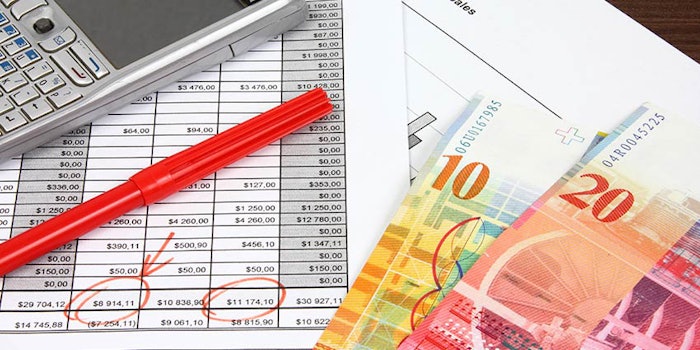 Clariant announced full year 2017 sales of CHF 6.377 billion, up 9% over 2016.
Within its business areas care chemicals and catalysis were singled out for particularly strong expansion, reporting 8% and 13% growth in sales, respectively. Care chemicals were driven by personal care and industrial applications, the company stated.
Related: Clariant to Present Sustainable Innovations at in-cosmetics Global 2018

Sales of natural resources rose by 14%, driven by the Kel-Tech and X-Chem acquisitions in North America. (Organic sales grew by 3%; in its report, the company highlighted growth in its functional minerals business and the recovery of its oil and mining services businesses.) Plastics and coatings, which saw sales grow by 5%, reported particularly strong sales in China.
Sales were strongest in the Middle East and Africa, Asia and Europe; Asian sales, driven by China, Southeast Asia and Japan, rose by 12%.
The company also reported its Q4 sales: CHF 1.679 billion, up 6 percent in local currency. Growth was reported in all regions; sales of care chemicals grew 7% in local currency, while catalysis sales grew 1%. 
"Clariant delivered exemplary top-line growth and absolute EBITDA improvement in 2017," said CEO Hariolf Kottmann. "The results are particularly encouraging as all business areas contributed to this expansion. Clariant continues to consistently and successfully deliver on its strategy and is well on track to achieve its goals. We are making progress based mainly on our innovation and sustainability positioning. For 2018, we are confident that we will further grow in local currency, operating cash flow and profitability."