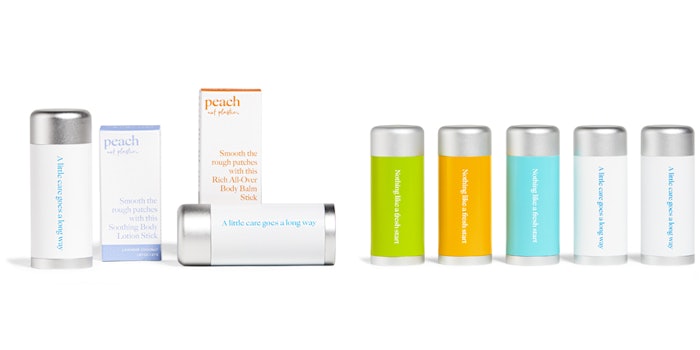 Peach, a brand by Grove Collaborative, has announced it will be expanding into the body care category.
Related: Bawdy Beauty Firms the Body with Super Tight Serum
Peach will debut with a 100% plastic-free Deodorant & Body Care refill system, including deodorant, a solid body lotion and a solid all-over-body balm.
Global Cosmetic Industry recently spoke with Luana Bumachar, VP of owned brands, Grove Collaborative, about the launch.
Global Cosmetic Industry: What was the white space you identified in the body care sector that wasn't already fulfilled by existing brands/products?
Bumachar: Plastic is everywhere and in order to solve that problem, we have to create better products for consumers one category at a time. Peach's initial launch of plastic-free hair and skin care helped consumers kick plastic out of their showers through a bar format.
With this Peach launch, we're expanding Peach's domain beyond the shower and into the bathroom cabinet. Refillable deodorant offerings are popping up in the market, but there aren't any players who offer clean deodorant in 100% plastic-free refill containers. Also, refillable, solid body lotion is an even newer and less permeated space.
The Peach expansion supports Grove Collaborative's larger Beyond Plastic initiative, a comprehensive plan to help the Company achieve its ambitious goal of becoming 100% plastic free by 2025 and to lead the industry out of single-use plastic. With the new highly efficacious products, Peach is making sustainability a trade-up, versus a trade-off, for conventional personal care products.