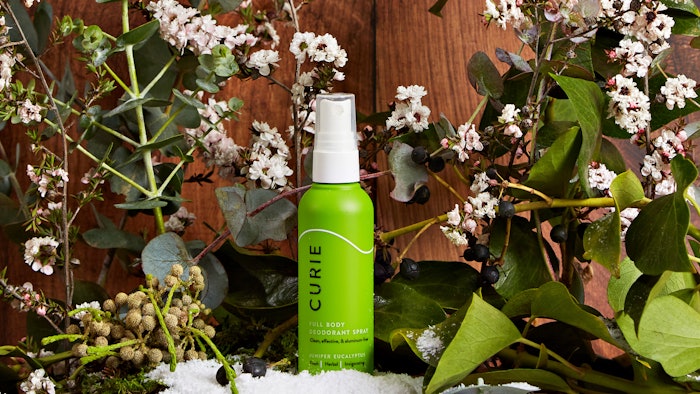 Curie and Equinox have collaborated on the launch of the non-aerosol, aluminum-free Juniper Eucalyptus Full Body Deodorant Spray ($14), a new scent inspired by Equinox's signature eucalyptus towels. This represents the brand's first new scent in two years.
Curie's Juniper Eucalyptus is the brand's first new scent in 2 years.
The spray will be available in Equinox clubs globally this summer as a complimentary amenity for members to freshen up before or after their workout, per the companies, and will be available to purchase online via Curie's direct-to-consumer site and in The Shop at Equinox.
"As an athlete, I created this brand three years ago for 'Humans in Motion' so that active people like myself can use clean products without having to make a sacrifice," said Curie's CEO and founder, Sarah Moret.  I wanted to create a clean, aluminum-free deodorant that could last even through the toughest of workouts, which is why this collaboration with Equinox felt really on brand for us,"
Moret added, "We came to realize that offering our product as an amenity in locker rooms was a great way to acquire new customers. We met with the Equinox team and decided to collaborate on a brand new scent, inspired by the eucalyptus towels that Equinox members know and love. We're really excited to finally see this product come to life."