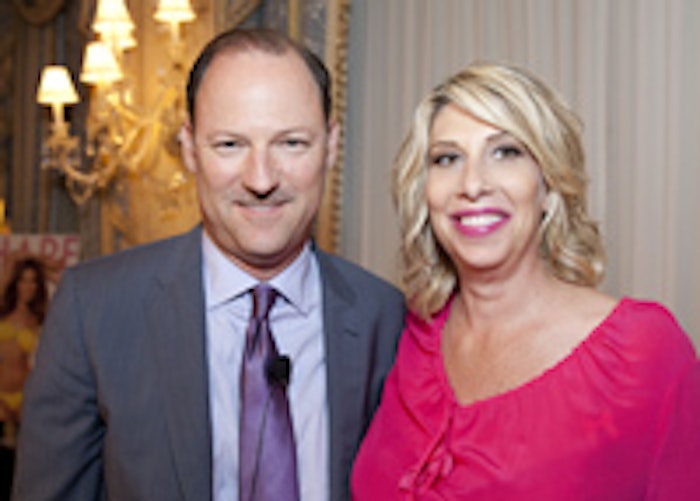 Patricia Willis
Becoming one of the very top beauty brands in the country presents untold challenges—and sustaining that position is more challenging still. That was the subject of the latest edition of Cosmetic Executive Women's (CEW's) Women and Men in Beauty Series, titled "Beauty Risk-Taker: Maybelline New York," held June 25, 2013, at the Harmonie Club in New York, which offered a look at the beauty powerhouse.
Jill Scalamandre, chairwoman of CEW, welcomed attendees and the event's sponsors—including Shape, Givaudan, 24/Seven, HauteLook, Experticity, Beauty Inc., WWD and Kaplow—and noted the success of the evening's guest of honor, Maybelline New York, along with Garnier and Essie. Maybelline New York has held its number one position in the industry in mass beauty for the past two years, and the beauty makeup brand, which introduced the first mascara in 1914, has emerged as one of the most successful risk-takers in beauty history. The evening's guest speakers, David Greenberg, president of Maybelline New York, Garnier and Essie, and Carolyn Holba, senior vice president of Maybelline New York, Garnier and Essie, shared their strategies for maintaining this authority as a beauty brand.
The discussion began with a look at the history of Maybelline, from a brand born in Memphis to one acquired by French company L'Oréal. "It's been 18 years since L'Oréal acquired Maybelline," said Greenberg, noting that Maybelline "earned her lashes in 1914," and that the company has a colorful history. He provided perspective on the relationship between the two L'Oréal and Maybelline, noting the synchronicity between a European manufacturing paradigm and the whole spectrum of manufacturing, packaging and marketing in the U.S. "The people at that time understood that people in markets around the world, particularly in emerging markets, would provide an answer to capitalize on these markets. We learned an awful lot about how to manufacture, while L'Oréal also learned a lot about manufacturing for the mass markets in the U.S., as well as South and Central America," said Greenberg.
From advertising campaigns featuring a properly coiffed and comported young woman in the 1950s to the innovative color technologies and cutting-edge look of today's Maybelline campaigns, the company has navigated the vagaries of changing trends, offering new brand platforms, expansion, attuned outreach and organization. Greenberg, who was appointed president of Maybelline New York in 2008, began his career in marketing in 1993 at L'Oréal Paris, and ultimately held the position of vice president, marketing. He moved to general manager of the L'Oréal consumer products division in Mexico, where he spearheaded the expansion of the Garnier brand. L'Oréal's Matrix division was next when he was named worldwide general manager of Matrix in 2003, and in the span of two years, he led the brand's global rollout to numerous markets, including the coveted BRIC countries.
Carolyn Holba, who as senior vice president of marketing for Maybelline New York, Garnier and Essie, oversees a billion dollar business and more than 70 employees, said, "Strategic vision is key. What Maybelline is all about is empowering every woman to dare to be more every day." She described the three pillar system employed at Maybelline New York, saying, "First, it is necessary to bring true innovation to the marketplace, with on-trend products. Second, accessibility is key. Maybelline is available in 40,000 doors across the country. Third, offer products at an accessible price." The approach is what works for Maybelline, noted Holba, emphasizing that Maybelline New York guides the brand vision.
"When we inspire and excite our consumer base, that is key. As marketers we listen to the consumers qualitatively in order to be able to come up with innovative products that consumers will want to purchase. We're up 6% as a color cosmetic category and see 2013 as a successful year," said Holba, citing some of the recent product standouts, including The Rocket Mascara, Color Sensational Lip Color, and Color Tattoo Eyeshadow, which was claimed to have actually surpassed Maybelline mascara in market position. "What continues to drive us is innovation," said Holba.
Greenberg, who noted the importance of remaining humble, relates to the gestalt of the beauty industry. "The bigger you get, the harder the next step is. We're fortunate to be in a dynamic business with a large population and great purchasing power." He added, "With a 40% share of mascara, we would of course look to have 60%, but we try to remain humble and look at new segments and new ways to pioneer new markets and bring new benefits to consumers."
"I think the consumer is extremely into eyes, and I like products that make eyes look bigger. Eyeliner is popular in the Hispanic population, and lips are also important. We spend an awful lot of time listening to consumers, Carolyn more than me, and all of the parts must come together. We're in 100+ countries, with a lot of smart people around the world, and then we use and leverage the insights we have," said Greenberg.
Goals and Risks
"We felt the brand could become the number one color cosmetic brand. In 2009, Maybelline was known as a mascara brand, so we knew it had that position, and we knew we wanted to grow in lip and face. We knew that would be critical," said Holba. "When we were approached to become the sponsor of New York Mercedes Benz Fashion Week, we knew this was a good fit. We also wanted to elevate our brand imagery and worked with our internal teams to take a look at our brand and elevate it into new territory."
"I joined Maybelline 15 days before the market crashed, and when I first took the business everything was good. Then everything imploded," said Greenberg. "The questions arose—tick to what you know? Invest in the same? But we launched the most expensive vibrating mascara we could, and then we worked on lip color. Our products retail between $5 and $15—we don't sell automobiles—so we went very aggressively toward our goals. For example, with the lip color and the vibrating mascara, I credit the L'Oréal company. We look at this whole thing as an adventure, that is what drives us, and business is the consequence."
Regarding the New York Mercedes Benz sponsorship, Greenberg commented, "Fashion was a part of the brand from the earliest days of Maybelline, so it's been there all along." And Holba agreed, adding, "For the launch of Color Sensational, we knew we had to make a big noise. This was important for the color category as a whole. 'Fall in love with color all over again,' with Color Sensational was the shifting point for the brand all along," she said. "Likewise," Holba noted, "the vibrating mascara also reinforced to us and our retailers that the Maybelline brand is always willing to bring excitement to the marketplace."
Regarding new forms and multiple benefits, Holba was enthusiastic about the wave of BB and CC creams and beyond. "All of us can relate to products with multiple benefits. I don't see it as a fundamental shift, but I see it as bringing technology, which we now have, to satisfy consumer need. BBs started in the 1920s as a blemish balm, and evolved into a craze, first in Asia, that created flawless skin. Lucky for us, we were working at this and were able to translate this for the U.S. market. We see a huge opportunity for all demographics for the BB cream," she said.
Communication Strategy Shifts
Moving on to finding and retaining consumers, whether reaching them in the digital space, in print or on television, it's important to understand who is utilizing which medium and when, Greenberg and Holba said. "We fortunately have consumers ranging in age from 9-year-olds in school to 76-year-olds using our eye shadow," said Greenberg. "The changing media landscape is understood. It's not so much where you say it, but how you say it, so it's got to be placed right." Linking the consumer with the best message for the product, whether for face, lips or nails, is the challenge.
"Our website focuses on new product innovation, and we want our consumers to be able to access the information wherever they are, no matter what type of device she is utilizing," said Holba. Greenberg also noted, "Consumer confidence is now generally high and employment is coming back. In reality, you're the captain of your own destiny. People want a little relief, it's a very serious world we live in, and at the end of the day we want to have the happy, uplifting qualities of the beauty industry. If we are developing the right things that we know consumers want, the sky's the limit."
"Like everything, it's about having a clear vision of your brand. Not everything can grow at 40–60%. But, if it grows at 5, 6 or 10%, that's great, we're pretty optimistic. Our belief is, don't make a promise you can't fulfill. If you say a product's on trend, it'd better be on trend," said Greenberg. Referring to the Essie nail business, he commented on its place in the professional salon market and the importance of that heritage. "At the end of the day, we need to keep the brand special and retain its emotional connection," he said.
Regarding Garnier, Greenberg said, "It is already a special brand in lots of categories. Brand building is harder than it seems, and if we can cross over it's due to brand architects enabling it to deliver on what it is proven to do."
In concluding the presentation follow-up, Greenberg added perspective for attendees, saying, "I have a box of failed products in my office. It reminds me of how humble you have to be. Always remember that someone has to buy the product you're creating, and sometimes you just feel a product is right." In sum, a combination of intuition and analytics will yield the best result.