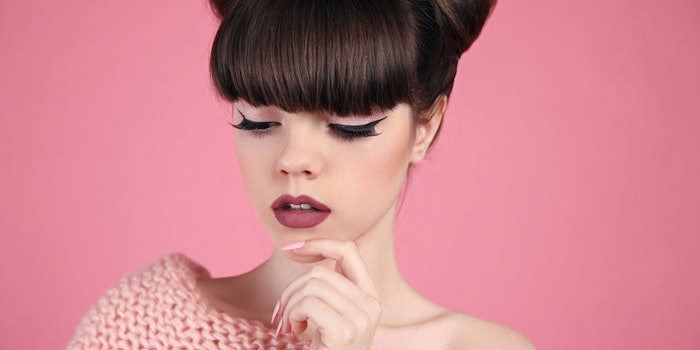 The teen beauty market is booming. With the constant temptation of new makeup trends and peer recommendations on social media, beauty ranks in the top three for teen spending, alongside food and video games. In 2017, this spending hit new highs, with female teens splurging an average $368 per year on beauty products, according to investment bank and asset firm Piper Jaffray.
But while they might be prepared to invest, they aren't loyal and often cherry-pick brands based on price, quality and trends. Teens are skeptical and can flip from one brand to another in search of interchangeable, trend-led products. As a result, brands have to work much harder to pin down this consumer group.
The following are three ways cosmetic brands can tap into the spending power of teens.
1. Explore Color
Cosmetics are vitally important to teens, who use them for self-expression and a sense of peer community. A whopping 90% of American girls and 69% of American boys aged nine to 17 are beauty product users, and more than half of U.S. 12- to 14-year-olds use mascara, eyeshadow, eyeliner and brow pencils according to Mintel.
Cosmetics offer a way of exploring and playing, especially in makeup, where teens are layering and hacking products to create their own identities. This is where color comes to the fore. It offers range and a tool for self-expression--whether it's making a statement eye with turquoise mascara, wearing a fierce red lip or opting for a soft pink glow. In addition, the instructional nature of beauty content on social is promoting a mastery of skill and technique, which ends up manifesting as a mix of entertainment and creative outlet.
Tapping the creativity of this consumer group will not only result in a great product but prime engagement.
Youth-oriented makeup brands can capitalize on this trend by giving teens the appropriate tools to achieve this look. Crayola and ASOS' new 95-piece collection, for instance, taps into the full spectrum of the rainbow, with color-changing lipsticks, eye palettes, highlighters and mascaras, encouraging a child-like obsession with paint and play. In addition to expansive color cosmetics, inclusive palettes that cover all skin tones and shades are essential. The runaway success of Rihanna's Fenty beauty proves that brands with limited shade ranges will be left in the dust if they don't expand their offering to include everyone.
Brands should also consider collaborating directly with teens as a key product development strategy. One of the best examples we've seen of this so far is Posme, an open-source project by Shiseido in Japan. The brand has collaborated with high-school girls to create fun, accessible products by and for their target market.
Today's teens are more entrepreneurial and keen on customization than any demographic before them. Tapping the creativity of this consumer group will not only result in a great product but prime engagement.
 

2. Champion Anti-perfection
Teens are looking for authenticity. On social media, they are behaving and engaging in a much more authentic way in comparison to millennials, who prefer to curate their online presence. As a result, we're seeing teens become more accepting and even celebratory of flaws like acne, focusing on real skin, real life and the transformative effect of makeup.
Cosmetic brands have a key role to play in this pursuit, particularly when it comes to picking influencers to work with--who are showcasing both real and curated content--and how they advertise their products.
Eighteen-year-old, U.S.-based "Pro pizza face" influencer Hailey Wait shows off her acne scars and embraces her breakouts with messages to her followers like: "Yeah my skin isn't perfect, but neither are you." She also posted a viral tweet about acne not defining the way a person should feel and wrote a manifesto on Instagram about the way acne has affected her self-esteem.
Teens are all about keeping it real. Authentic messaging is becoming increasingly important for teen engagement, especially when this demographic is often still finding their identity. There's a real opportunity for cosmetic brands to engage openly about imperfections, embrace inclusivity and focus on the transformative effects of products, rather than simply demonstrating the end look on a seemingly already flawless model.
3. Be Authentic and Embrace Natural
Teen desire for authenticity also extends to the products they want to use. Across the board, consumers are less trusting of big companies and institutions thus transparency and a back-to-basics approach is gaining traction.
Clean, natural and vegan formulas are now in high-demand and these young consumers are ready to hold brands to account that don't take an ethical stance. Cruelty-free, vegan options are a huge space for brands to tap into, and a trend that is not expected to dissipate any time soon.
But this concern with natural products doesn't outweigh performance--teens still want solutions that treat their unique issues, such as acne.
Authenticity is key when it comes to developing products aimed at teens.
Ex-pharmaceutical PR Stephanie Capuano launched the natural skincare range 31st State--free from parabens, microbeads and synthetic colors--for teen boys when she couldn't find suitable natural products for her teenage sons. 31st State's Overnight Clearing Pads combat congested skin and breakouts with a blend of lactic acid, manuka honey and tea-tree oil.
C'est Moi is another brand charging ahead in this space--grounded in enhancing natural beauty for younger skin types by using ethically sourced ingredients.
Authenticity is key when it comes to developing products aimed at teens. They want to let people know they are going green, but they need products that work. Ethical brands that do social good are more likely to hold sway and garner spend with this demographic but must also work to friendly price points.
All in all, teen beauty is a dynamic space in the market, ready for innovation and disruption. Never before has this demographic been quite so open to beauty, skin care and personal care, and they are hungry for new and exciting brands, launches and product extensions.
Author bio:
Saisangeeth has experience translating future trends and applying them as business solutions in marketing, retail, product and design strategies. She has worked with leading international brands across fashion, luxury and branding in the US, Asia and Australia. She is currently head of advisory–Fashion, Beauty & APAC at Stylus.