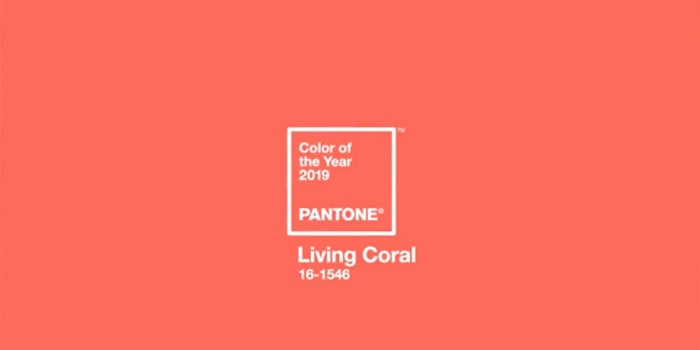 Pantone has announced its pick for Color of the Year 2019: Pantone 16-1546 Living Coral. 
2019's color is described as a vibrant, yet mellow shade that provides comfort in our continually-shifting environment. Living Coral, according to Pantone, is sociable, spirited and engaging. Additionally, the shade welcomes and encourages lighthearted activity and "symbolizes our innate need for optimism and joyful pursuits."
Leatrice Eiseman, executive director of The Pantone Color Institute, was quoted saying, "Color is an equalizing lens through which we experience our natural and digital realities and this is particularly true for Living Coral. With consumers craving human interaction and social connection, the humanizing and heartening qualities displayed by the convivial Pantone Living Coral hit a responsive chord."
The color, which "energizes and enlivens with a softer edge," represents the fusion of natural life, Pantone explained. The color appears in both our natural surroundings as well as an eye-catching pop of color on social media. 
Update:
With a new Pantone Color of the Year comes the opportunity for beauty brands to showcase new hair and makeup looks that will keep consumers on trend. Two such brands embracing Living Coral are Aveda and butter London.
Ian Michael Black, global artistic director, Aveda, commented on Pantone's color prediction by saying, "Every year, hair colorists wait in anticipation of what Pantone will release as the Color of the Year. This year I was very excited to see the bright, yet quietly gentle color, Living Coral, which translates beautifully to hair. It's a lovely copper with a pink undertone that is warm, inviting and light-hearted. Once announced, I immediately got to work to create Living Coral for the hair. Working with Aveda and its fully customizable hair color system, hair colorists are able to instantly create Living Coral for hair color, and offer it to guests so we can start 2019 with a playful, uplifting color."
Janell Geason, global artistic director, Aveda, added, "I always love creating a new lip and it's fun to incorporate a new color scheme when Pantone releases its Color of The Year. I'm loving Living Coral because it's uplifting, light-hearted and embodies a spirit of revelry which matches my own feelings about makeup. This also reflects the people that love our Feed My Lips line which is cruelty-free, naturally-derived and all about beautiful color. In general, shades of coral work for all skin tones. I've created my own twist on Living Coral—one more subtle and one very bold."
Recently, butter London took to Instagram to announce the launch of its Pantone Color of the Year 2019 Living Coral Collection. The collection includes three nail polishes: Creme Patent Shine 10X, Shimmer Crushed Diamonds Patent Shine 10X and Peel-off Glitter. The brand's post also shared news of the January 2019 launch of its limited-edition Living Coral Plush Rush Blush Stick and Ultra-glossy Plush Rush lip gloss.