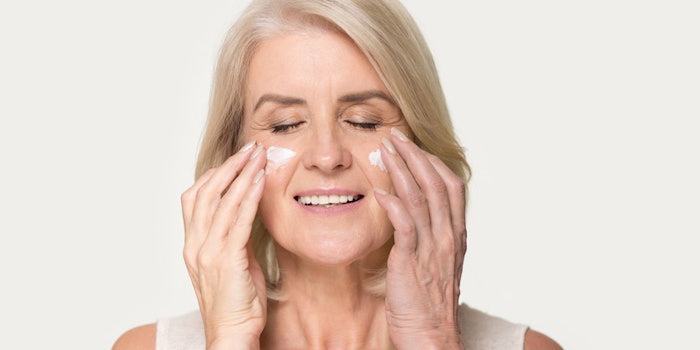 While beauty brands are busy grappling with Gen Z beauty consumers, the oldest population segment is poised to have major implications on the beauty and personal care market. 
According to Michael Nolte, creative director at Beautystreams, the 65-plus age group will reach one billion by 2030. And with numbers like that, it is vital for companies to create innovative products geared toward the demographic's specific needs. 
Global Cosmetics Industry spoke with Rocio Rivera, Ph.D., VP of scientific communications at L'Oréal Paris, to learn about creating products for "forgotten" makeup shoppers and their unique needs. 
Global Cosmetic Industry: How were the products designed to specifically address the "forgotten" makeup shoppers?
Rocio Rivera (RR): L'Oréal Paris has been championing inclusivity and the worth of all women since its inception, and this new line embraces the same approach. It's diverse and embraces the beauty of every woman at every age, whatever she decides her makeup routine to be. It is rooted in deep scientific knowledge of the skin, but also in her emotional and functional needs.
At L'Oréal we always utilize our scientific research knowledge and couple it with extensive and deep consumer listening—one cannot decouple from the other. From formula type to usage to packaging to textures, everything must check many boxes that keep the consumer at the center of the innovation.
The New Age Perfect Makeup line was approached the same way: looking at the science, the biology of the skin and its needs. We also spoke with thousands of women, listened to them, and took their emotions and state of mind into consideration to make each product in the line.
The products have been meticulously designed and formulated for the 55+ woman: not to alienate her from the market, but to embrace her and bring her in if she wants to use makeup. It does not stop at the formulation approach, but the packaging, the fonts, and the ease of application, the pigments and ingredients and complete shade ranges—broadening inclusivity beyond just age or skin color alone.
In terms of ingredients, all the formulas have been developed with her skin needs in mind: with serums that contain vitamins, hydrating ceramides and precious oils, to name a few.
To highlight, but not limited to:
Age Perfect Radiant Serum Foundation SPF 50 is a radiant serum foundation, carefully formulated lightweight foundation made with SPF 50, vitamin B3 and hydrating serum for all-day hydration. It doesn't settle into lines and evens tone while providing natural, radiant coverage. The foundation is available in 30 natural luminous shades suitable for sensitive skin. Mature skin needs nourishment and hydration and protection thus we selected an SPF that is non-drying or chalky and won't set on fine lines or wrinkles but will provide excellent coverage and protection, which was a non-negotiable for us.
Age Perfect Creamy Powder Foundation is a creamy powder foundation, infused with a ceramide antioxidant complex and minerals. Upon application, it smooths and blurs lines, pores and dark spots and hydrates with a shine-free finish. Age Perfect Creamy Powder Foundation provides coverage that does not cake and is available in 16 creamy shades. Powder has always been a challenge as the skin matures, because it may settle on lines and pores, making them more prominent. Our blurring expertise, together with a unique formulation approach, makes this creamy powder the antithesis of what you think powder is.
Age Perfect Lash Magnifying Mascara is a lash-magnifying mascara, infused with conditioning serum and jojoba oil. The mascara cares for lashes and instantly magnifies while being easy to remove and suitable for sensitive eyes. Its formula, with gentle brush and bristles, easily coat lashes leaving them soft, supple and volumized. The product is available in black and brown. Lashes inevitably fall when we remove makeup, but as we age the re-growth is much slower and eventually stops. At the same time, lashes thin, so using mascara is a great way to enhance and thicken them. A caring mascara that delivers every benefit of mascara yet is caring for the lashes when the removal time comes is a win-win.
Age Perfect Luminous Hydrating Lipstick is a luminous hydrating lipstick, infused with nourishing serum and pro-vitamin B5. The lipstick is formulated with 45% caring ingredients, this lipstick goes beyond color and provides nine-hour hydration that doesn't feather. With prolonged use of this product, lips are smoother and nourished. The lipstick is available in 10 hydrating shades. As we age, the lips thin and vertical wrinkles are more evident. Thinning lips always look fuller with gloss, with hydration and with rich pigments, but the vertical lines, which we call "bar code", act as small canals for the pigment and formula to bleed. The new Age Perfect lipsticks were created with the rich pigments but in hydrating formulas that won't bleed because the melting point of the ingredients needs higher temperature than body temperature, so they will stay in place avoiding feathering.
Every aspect of the product packaging, from colors, textures were meticulously chosen to be functional, yet exquisite in design for our consumers. We have data that shows font choices on packaging pose an issue to many consumers, as they cannot clearly read the packaging, or it is confusing, complicated or too busy.
One issue we addressed is that the fonts were created bigger and bolder to ensure nothing was lost in the "fine print." Another example is the ergonomic grip on the eyeliner, which makes the product easy to apply and easy to see while doing so. Our consumers will comfortably use the products without noticing these modifications because they are not obvious or look different than other eyeliners or lipsticks, but they will notice that makeup application feels a bit easier and much more enjoyable. Every product in the line has been adjusted this way.
Global Cosmetic Industry: What are the unique needs of this demographic?
RR: We know that women 55+ want to continue to use makeup, just like they did when they are younger, but they must be very careful in their choices as their skin is now undergoing changes that require specific formulas. For example, hydrating and full coverage foundations with SPF 50 that do not settle into their fine lines and wrinkles, creamy powders that blur pores without caking and blush that brightens the face without enhancing the pores.
Additional products include concealers that work wonders on undereye bags and puffiness without being heavy and setting on crows' feet, lipliners that fill and define without enhancing the "bar code," lipstick that is hydrating yet does not bleed, eyebrow products with the right pigments to fill naturally and are easy to handle, eyeliner that does not tug the delicate, movable eyelid.
And, finally, a lash mascara that not only enhances, elongates and thickens lashes but will care for them so the natural lashes don't fall when the product is removed at night. If we were going to create a line for skin that is 55+ it could only be by creating 100% of the products she needs in her makeup routine all in one line under one brand.
Biologically speaking, our skin starts aging from the moment we are born. As we grow, our skin—how it behaves and external appearance—changes. From our teenage years where acne can arise due to hormonal changes to our 30s where the first lines and wrinkles can start to appear (due mostly to sun damage and even occasional adult cystic acne) to our 50s where the skin becomes much drier due to a 40% reduction in oil production and thinning skin, every year our skin evolves uniquely.
There are common features that were taken into consideration:
Pores: We tend to associate big pores to teenagers, but, as we mature, our pores also become more apparent since the skin around them also loses firmness. Trying to use powders or regular foundation only makes them more apparent; women tend to drop powder's usage with age due to this. Using the right blurring technology and powders is the key to impeccably cover the pores without making them look bigger.
Lips: Our lips start to lose their volume and we tend to get vertical lines, which makes it very challenging to wear lipstick or liner because the pigments and the formula bleed into the lines like a canal, prompting women to drop their usage of lipstick. However, adding a lip color does make them look fuller if that is a look she going for. Using a hydrating core to compensate for dry lips and skin with higher melting point waxes (that won't bleed into the "bar code" as they require higher melting temperature) fixes the issue.
Lashes: Eyelashes fall and grow out during our lives as a natural process, but as we age those lashes not only become thinner, they also take longer to grow or may stop growing altogether. Wearing mascara is a great way to thicken lashes and open the eyes, no matter your age, but removing mascara can be tricky as it can make lashes fall. Mascara is a great way to compensate thinning of lashes (if that is something a user wants to do), but it comes at the price of losing lashes during the removal. A caring mascara that is also thickening and volumizing may seem counter-intuitive but was achieved in this line.