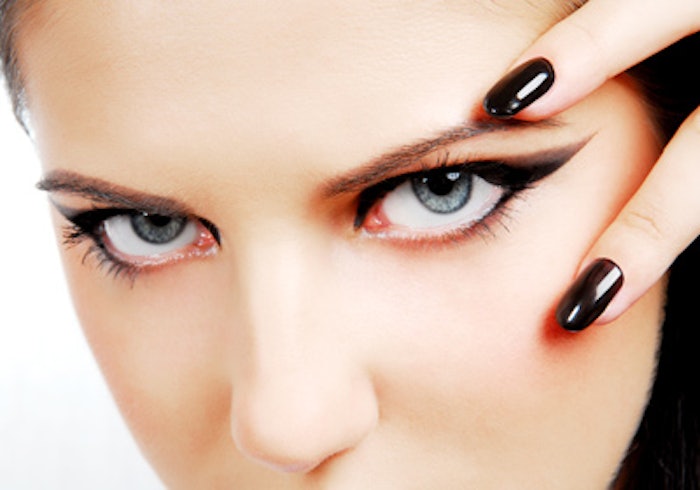 As we've discussed before, each season select beauty trends push certain colors to become the go-to colors for makeup and color cosmetic products. Sometimes, these trends and colors are straight off the runway, while some others evolve from previous seasons. Often, the hot trends and hues are easy to distinguish, but the driving forces that have gained them a spot at the top isn't always as evident.
Here we'll review some of the key influences behind the most coveted beauty color trends for fall/winter 2014-15—as well as the colors themselves.
Nude with a 'Tude
Spring/summer 2014 saw the rise of fresh, flawless faces. Now for fall/winter 2014–2015, the "no makeup makeup" endures while also taking on a slightly masculine edge. With fitness-focused apparel influencing fashion beyond the gym, this makeup style complements an overall look with a boosted natural appeal.
Matte textures combine with subtle nude tones, updating the minimal trend with a healthy, sporty glow. Varying shades of warm brown enhance natural contours, emphasizing the light and shaded areas of the face while creating a soft, earthy luminosity. And contouring and highlighting products define cheekbones to sculpted perfection.
Precious Metals
The Warmed Up metallics featured this spring continue to be front and center, taking on deeper red undertones with reflective and glittering incarnations. Bronze, shimmering oxbloods and smoky taupes are standout metallics this season.
The unwavering taste for earthy mineral hues reflects a larger trend that points to a greater influence from nature, where natural disasters and superstorms leave beautifully tarnished colors in their aftermath. These dangerously striking hues inspire murkier metallics and traveling pearl iridescent finishes that move with the light, delivering multiple hues with a single application.
Power Pinks
Vivacious pinks pack a colorful punch for the fall/winter 2014–2015 season, providing an energetic update to spring/summer 2014's cool pinks. Animated fuchsia and magenta garner attention, adding a bold flush to cheeks, lips and eyes.
These female-centric power colors emphasize a growing take-charge attitude. Women continue to break the mold, gaining positions of authority around the world. Armed with a can-do approach and an aura of pink, modern day superwomen rise to the challenge.
Blue (S)teal
Oceanic blues are making waves for the fall, with icy shimmers and touches of teal combining to emulate the erratic and changeable nature of the sea. Shimmering cobalt and aqua line lids, trading up traditional black for a cooler effect.
The interest in these water-inspired blues ripples out of an increasing concern for global water accessibility—from rising sea levels to growing water scarcity.
Additionally, the ocean holds a sense of mystery and allure, with only approximately 3% of the world's oceans explored. Scientists are making moves into this uncharted territory, and all of this attention gives rise to a wash of deep-sea hues for the season.
A Nod to Mod
Individual expression reigns supreme with liberal applications of classic black and white pigments that stays within—and then strays beyond—the lines. Graphic black returns with a vengeance, defining lids and lashes in bold extremes. And these dark features are contrasted by opaque, stark white that lights up the eyes. For these trendy colors, chalky, matte textures are favored.
This trend has its roots in the past, taking its cue from the swinging 60s mod movement, where strong yet flirty defined femininity. True to this style, fall/winter 2014–2015 celebrates powerful women whose confidence is coupled by her bold sense of style.
Roseanna Roberts has served as the director of color trends at The Color Association of the United States (CAUS) for the past four years. During her time with CAUS, she spearheaded the launch of the beauty forecast—the first new committee to be added to the association in more than 20 years. Roberts also works as a color and trend forecasting consultant in New York. Reach her at roseanna@roseannaroberts.com and roseannaroberts.com.