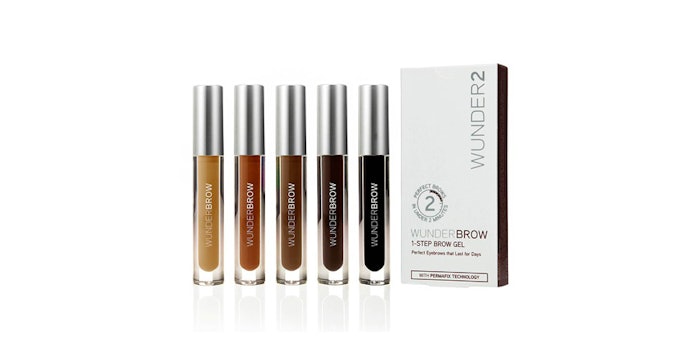 KF Beauty, a "data-driven marketing company" that oversees hair care brand Kerafiber, formed WUNDER2 in 2015 to provide consumers with "High Tech Beauty." The following year, WUNDER2's WunderBrow Brow Gel became Amazon's top item sold in the mass cosmetics category, boasting growth of 61% year-over-year. In that same period, the independent brand grew by 800%, served 1.5 million consumers and now ships more than 10,000 products per day.
WUNDER2 currently has 16 SKUs, with five more rolling out this year, and has expanded its retail reach from WUNDER2.com to Amazon, HSN, CVS in-store and CVS.com, and Ulta.com. Now, with NPD reporting that eye brow makeup grew about 31% between 2016 and 2017, WUNDER2 appears poised for further growth.
Virtually any SKU can be sold once, said Michael Malinsky, co-founder and CEO of WUNDER2, but at a $22 price point, it's critical for a brand like WUNDER2 to invest in bringing customers back again and again. For this reason, Malinsky and his team focused on the product and user experience, which meant good products, good shipping times and good customer service.
How to Win in Beauty on Amazon
New data from One Click Retail found that, in the first quarter of 2017, Amazon owned $1.3 billion of the $80.6 billion U.S. health and personal care market. While the overall segment shrunk by 1%, Amazon grew 30%. In 2016, Amazon's sales in the segment totaled $4.7 billion, meaning its Q1 2017 results comprise 27.5% of last year's total.
Malinsky noted that Amazon is the biggest ecommerce site in the world and the largest and most trusted beauty platform in the world, thanks to its ample inventory of consumer reviews. In addition, consumers may be motivated because they are Prime members and already have their information loaded for easy click-and-purchase. For these reasons, WUNDER2 has focused on the platform for growth, which currently generates 25% of its business. 
Beyond the WunderBrow
The WunderBrow Brow Gel jumpstarted the WUNDER2 brand and generated significant amounts of press, said Malinsky. The SKU generated about 80% of the brand's sales in 2016. However, even as WunderBrow sales continue to rise, it's generating a diminishing share of the business as the product mix diversifies. This year, Malinsky estimated that WunderBrow sales will outpace those of 2016 but only account for about 50% of WUNDER2's results.
WUNDER2 could compete with large cosmetics companies by partnering with makeup artists on social media platforms like YouTube and Instagram.
The company, which mines insights from millions of consumers, has launched the Perfect Selfie - HD Photo Finishing Powder, Prime & Behold Professional Primer for Color Cosmetics and more. At the core of the brand is a focus on technology, particularly waterproof and transfer-proof cosmetics, as well as competitive pricing. Malinsky noted that the performance of WUNDER2's products sets it apart in the mid-market and ensures that products aren't interchangeable.
Shrinking the Gap between Customer and Brand
Malinsky explained that he isn't a "big believer" in brand awareness, and considers it an "outdated concept" used as a metric by ad agencies to sell traditional advertising. While Malinsky understands the value of traditional marketing, particularly performance-oriented measured spends, he found that WUNDER2 could compete with large cosmetics companies by partnering with makeup artists on social media platforms like YouTube and Instagram.
This strategy allowed WUNDER2 to deliver its message via authentic experts and to build direct long-term relationships with consumers throughout their journey from discovery to curiosity to purchase.
WUNDER2's direct communication with customers has helped it stand out.
WUNDER2 advertises on Facebook and Instagram and posts native content on YouTube and other platforms where consumers go to discover new products. The company creates content or curates platform-relevant material. For instance, Malinsky explained that, when consumers are on Facebook, their attention is heightened and that they have a specific expectation for the flow of content.
It's no secret that consumers have become desensitized to traditional ads or that super-glossy presentations often don't stand out. That's why WUNDER2 is delivering a believable, relatable imagery in social media.
The content has been developed through trial and error, offering education on how to use the brand's products. WUNDER2 also has a staff of about 25 that responds to customer chat queries almost in real time, which builds trust in those seeking advice on colors or products. Beauty advisers are able to make recommendations based on profile photos, which thins the gap between customer and brand and makes WUNDER2 a reliable resource.
Motivating Purchases
While traditional press such as Elle and Cosmopolitan continue to garner consumer respect and trust, peer reviews and influencers also play a part. Spurring awareness can often prompt consumers to explore products in the brick and mortar channel, which motivated WUNDER2 to expand beyond its direct-to-consumer and digital-only origins.
Malinsky explained: if consumers can touch or feel the product, they can be motivated to purchase. WUNDER2 has strategically rolled out high demand-generating products into the brick and mortar space, like its recent partnership with CVS. Malinsky noted that every retail expansion is determined by a "granular" understanding of the sources of growth.
Speaking with a True Voice
Paired with its product innovation, Malinsky said WUNDER2's direct communication with customers has helped it stand out. Consumers can sense authenticity and the human being on the other side, he added. The company delivers that authenticity via its ads, communications, newsletters and social media feeds. The goal, said Malinsky, is to speak with a true voice, to speak how they wish other brands spoke.