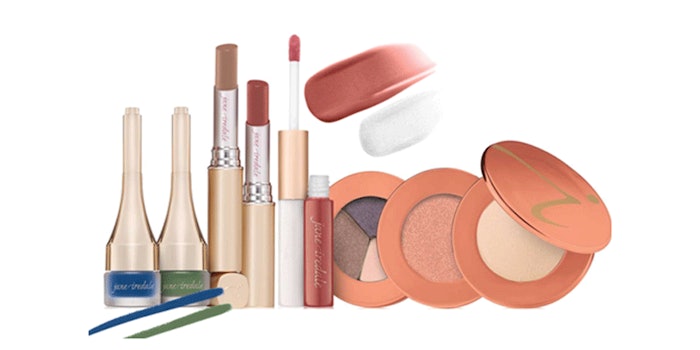 Jane Iredale has announced the launch of its Spring 2018 collection, Pretty in a Snap. 
Emerald 
and Sapphire Mystikol
Powdered Eyeliner
Retailing for $24, these emerald and sapphire powdered eyeliners are a water-resistant powder/cream formula meant to avoid fading, creasing and smearing. The snap-in brush creates precise fine lines or a smokey look.
Tricia 
and Jamie PureMoist
Lipstick
Retailing for $25, these lipsticks are available in terracotta and nude shades. The lipsticks' ingredients include moringa oil, vitamins A and C, coffee seed extract, orange peel wax,  avocado oil, sunflower seed oils and pomegranate and blackberry fruit extracts for flavoring.
Content 
Lip Fixation
Lip Stain/Gloss
Retailing for $30, the matte pink, nude and clear shimmer duo is meant to provide hydration, color and shine without the use of petroleum-based ingredients. The formula also intends to give long-lasting, rich color without feathering while protecting with organic vegetable oils.
Snap Happy
Makeup Kit
Retailing for $58, the kit comprises PureMatte Finish Powder (translucent), Whisper PurePressed Blush (a shimmery peachy pink) and Brown Sugar PurePressed Eye Shadow Triple (warm brown, shimmery peach, shimmery copper eggplant).
The collection will be available in April 2018 on www.janeiredale.com