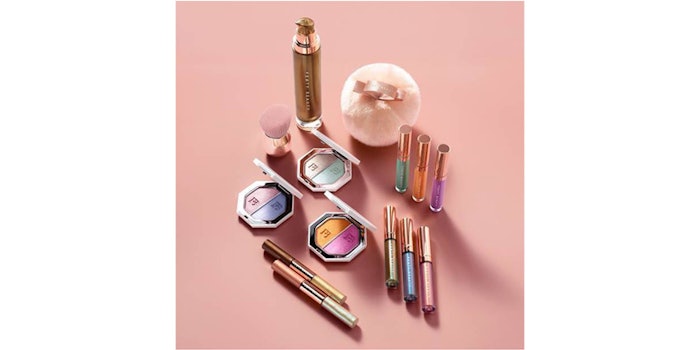 Fenty Beauty has announced the second release of its 2018 Summer collection, Beach, Please!
Beach, Please! originally launched in April 2018 with the Body Lava drop— Who Needs Clothes?!, a rose-gold color, and Brown Sugar, a golden bronze shade—($59), the Fairybomb Glittering Pom Pom ($42) and Face & Body Kabuki Brush 160 ($34). 
Beach, Please! Summer 2018 Collection, Second Release, Includes...
The Killawatt Foil Freestyle Highlighter Duo offers a hyper-metallic finish that can be used on the eyes, face or collarbone. Retailing for $36, the highlighter was formulated with buildable, color-rich luminizers that are meant to give skin a foil-like finish. Shades include 7DayWknd/Poolside, Mimosa Sunrise/Sangria Sunset and Sand Castle/Mint'd Mojito. 
The Island Bling 2-in-1 Liquid Eye Shimmer comes in dual-ended packaging that offers a metallic shimmer formula on one end and an iridescent glitter topcoat on the other. Retailing for $26, the product was formulated with color-flipping micropearls that shift with light. Shades include Summer Fling/Reignbow and Mamcita/Tini Kini. 
The Summer Daze & Summer Nights Iridescent Lip Luminizer Trio are creamy, color-flipping lip glosses available in iridescent (Summer Daze) and holographic (Summer Nights) finishes. Retailing for $32, each trio applies sheer and gives lips a pearlescent shimmer effect. Shades include Single, Bilingual, Ready to Mingle, Snake Skin, Vaycray and Mermaid Thighs.