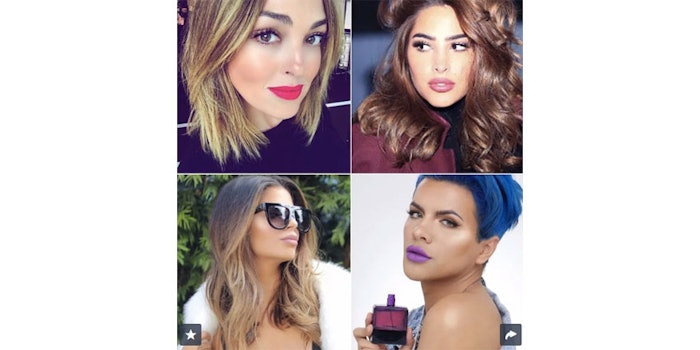 According to POPSUGAR, 10 beauty bloggers will be collaborating with MAC to create new eyeshadows and lip glosses in 2017. The 10 Instagram beauty influencers will be debuting custom MAC lipsticks this April, each with its own style and color based on the influences of the beauty influencers themselves.
Here's the list of the 10 beauty influencers that will make makeup magic with MAC:
Laura Lee
The YouTube beauty influencer has a following of more than 2 million and has been influencing the beauty industry since 2013. This Los-Angeles based influencer has created a different collaboration palette with Violet Voss last summer. Her love of MAC spawned at a young age as she saved up to buy from the Barbie collection.
Gabriel Zamora
This beauty influencer's is the only boy chosen for the collaboration, his bubbly personality winning over fans. He wanted to work at a MAC counter, but was too nervous to apply. Zamora said, "To be able to come out with my own lipstick is such a huge honor because I still get to work with MAC but in a different way."
Fleur DeForce
The UK beauty blogger has published two books, The Glam Life and The Luxe Life, that further explains how her beauty channel is a dream come true. Her colors of choice for lip shades are usually a bold red or a soft neutral that will look appealing and will be available for everyday use.
Alessandra Steinherr
Steinherr shopped some of MAC's fist launches, like the '90s essentials Spice lip pencil and Twig lipstick. The beauty director at Glamour UK plans to make her shade suitable for all occasions and comfortable.
Nikkia Joy
The provider of long-wear makeup tips and application hacks, Joy plans to create a shade that flatters all skin tones. She works well with close-up lip shots and will be working to make her shade into a photo opportunity.
Victoria Ceridono
The Vogue Brazil beauty editor didn't have a MAC store in her country until 2002, but that didn't stop her from purchasing two nude lip shades that led her to where she is today. C-Thru Lipglass and Fleshpot lipstick could possibly be an influence on her up and coming shade.
Samantha Ravndahl
With more than 2.5 million followers, the beauty influencer is used to having fans observe her makeup choices closely. The Vancouver-based makeup artist works with rainbow hair changes and Halloween looks that excite her followers. Her lipstick shade will be for every day and night while being effortless to apply.
Caroline Daur
The lifestyle beauty blogger bases her makeup choices off of the international backgrounds that she is in. She is a Germany-based writer that focuses on street style, workout and makeup looks.
Enjoy Phoenix
Marie Lopez does beauty DIYs and hair tutorials that have earned her 3.5 million Instagram followers and 2.6 million YouTube subscribers. The first lipstick she owned was MAC, a natural beige called Jubilee that could inspire her custom color. Her shade will be elegant and easy to wear for every style.
The Real Fouz
Fouz AlFahad is a Kuwaiti makeup artist that has earned a spot on the cover of Grazia Qatar. She influences her fans with street style and makeup tutorials that are feminine, classy and powerful. Her shade will be empowering like the looks that she pulls off in her tutorials.