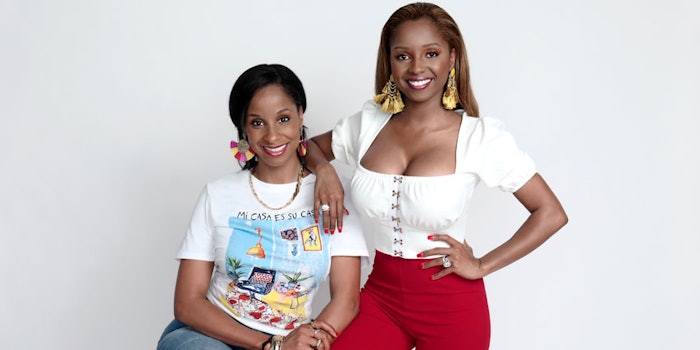 Los Angeles-based Luna Magic Beauty was created by sisters Mabel and Shaira Frías with the mission of adding vibrancy, color and the Latin vibe to the beauty industry.
The brand's products—a 12-shade eyeshadow palette, liquid lipstick and false lashes—launched on Walmart.com in February 2020. 
Global Cosmetic Industry magazine spoke with the Fríases about the needs of Latina consumers, the brand's masstige positioning and what's next for Luna Magic Beauty. 
Global Cosmetic Industry: What are 2020 Latina beauty customers looking for?
Luna Magic Beauty (LMB): Representation and cultural intimacy. Most marketing towards Latinas is rooted in stereotypes and, the truth is, we are just as global, design-focused and increasingly affluent as other key groups. The brand values and representation seen in Luna Magic Beauty's imagery and packaging is a way of showcasing elements of our culture. 
The Luna Magic Beauty brand may speak the Spanish language, but the products are intended for anyone who loves this culture. Our brand sets the mood and is putting the party together (food, music, energy, etc.) and everyone can join the party.
Global Cosmetic Industry: How are you solving Latina beauty needs through product formulations?
LMB: We've made sure that our formulas are highly pigmented to work across all skin tones.
Global Cosmetic Industry: What was the thought process behind the brand's masstige positioning?
LMB: We believe that beauty shouldn't break the bank, but rather it should be fun. Our formulas are benchmarked against the best but priced so that anyone who wants to purchase the products can.
Global Cosmetic Industry: What's next for Luna Magic Beauty?
LMB: We have strategically launched on Walmart.com due to the retailer's popularity with Latina beauty consumers. In addition, Luna Magic Beauty is participating in the Walmart Beauty Box program. As part of the program, 10,000 units of our eyeshadow palette will be sent to specifically targeted Hispanics between the ages of 18-34. 
As a company, we are data- and customer-segment-driven. We know where our customers shop, live, read and consume, so our job is to partner with retailers to bring our message and product to life.