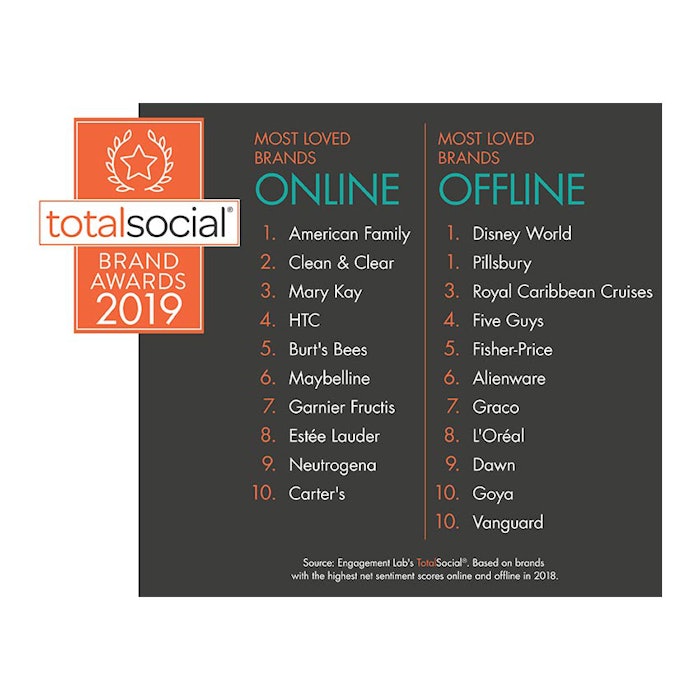 Fans of Mary Kay and Burt's Bees are Tweeting, 'Gramming and sharing the love; meanwhile, when it comes to offline word of mouth, L'Oréal devotees are spreading the cosmetic gospel.  
The companies were among the beauty and personal care brands recognized by Engagement Labs as Most Loved Brands.
Engagement Labs analyzed more than 500 consumer brands in a variety of industry sectors, ranking them based on net positive conversations happening online (via social media) and off (through face-to-face-conversations). It used its proprietary TotalSocial data and analytics platform to continuously measure online and offline metrics that drive business performance, including:
Net sentiment—The difference in the percent positive conversations minus negative
Brand sharing—The extent to which people are sharing or talking about a brand's marketing or advertising
Volume—How many conversations mention a brand, and
Influence—The extent to which an influential audience is talking about a brand  
The TotalSocial Brand Awards series will recognize the highest scoring brands in each of the above categories. The Most Loved Award recognizes brands with the highest net sentiment scores.
The beauty and personal care industry swept net sentiment online, scoring seven out of 10 spots. L'Oréal  landed in 8th place for offline conversations.
"The beauty and personal care category benefits from its intimate connection to consumers—it's a product you put on your skin, to deliver a healthier, more attractive appearance," said Ed Keller, Engagement Labs CEO. "Brands that deliver become beloved, generating very positive recommendations."
On average, 19% of all consumer purchases are driven by recommendations from friends and family, per data from Engagement Labs and analytics published by the MIT Sloan Management Review.
"Becoming a beloved and enthusiastically recommended brand involves connecting with consumers through purpose-driven storytelling, delivering great experiences, and refreshing the connection through innovative marketing and advertising," said Keller. "While more than half of the top most loved brands are also the largest advertisers in the nation, companies achieve most loved status in a wide variety of ways."