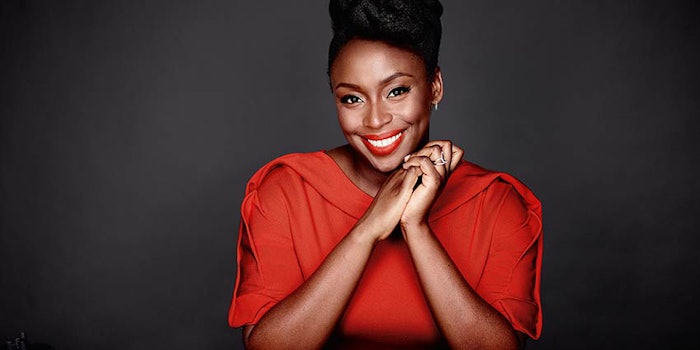 No7's Match Made Service offers 17 shades matches based on an analysis of 2,000 individual skin tones, which the brand believes allows for women to have perfectly pair makeup looks to their skin.
The No7 Match Made makeup services are available in Walgreens, Target and some Ulta stores, as well as Target.com, Walgreens.com and Ulta.com.
"It isn't about what is in fashion or what the rules are supposed to be."
In addition to embracing a multicultural view of beauty, the partnership with Adichie marries an enthusiasm for beauty products with a feminist point of view.
An official No7 announcement noted, "When younger [Adichie] battled with the idea she wouldn't be taken seriously in a man's world if she loved lipstick or eyeliner. As she grew, she realized she had no need to hide who she was. She is now a vocal advocate of how beauty is part of her feminine identity and how she uses make-up to show up how she wants to."
"I love makeup, and its wonderful possibilities for temporary transformation," said the novelist. "And I also love my face after I wash it all off. There is something exquisitely enjoyable about seeing yourself with a self-made new look. And for me that look is deeply personal. It isn't about what is in fashion or what the rules are supposed to be. It's about what I like. What makes me want to smile when I look in the mirror. What makes me feel slightly better on a dull day. What makes me comfortable."