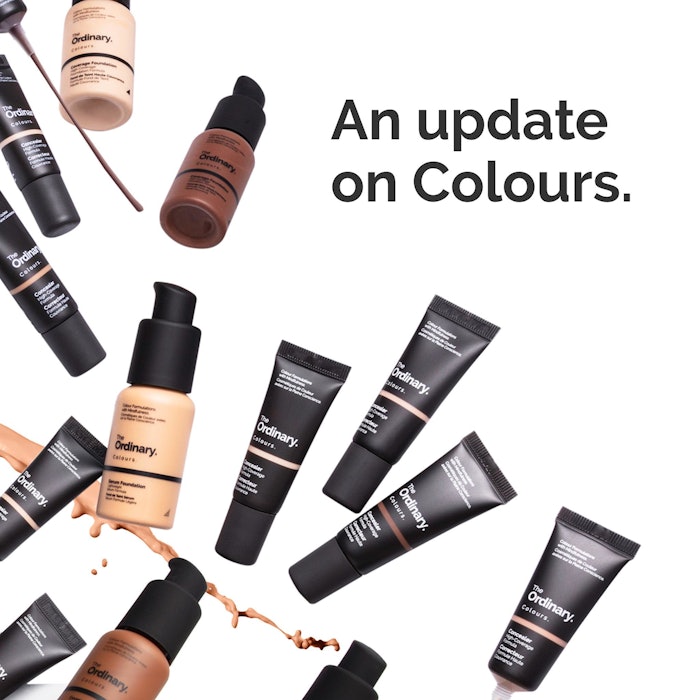 The Ordinary has announced that it will be discontinuing its color cosmetics range in the coming months. The brand's Colours Concealers will be phased out January 30, 2023, on theordinary.com. Foundations will be available until June 2023, per the brand.
The Ordinary says it could potentially return to the color space in the future.
The brand noted in an Instagram post, "We got to where we are today by being comfortable with failing." And so it decided, in its typically transparent way, to disclose what's behind the decision. 
(The Ordinary's parent company, Deciem, has previously been transparent about behind-the-scenes decision-making, as when the company elected to raise prices.)
The reasons for the color range discontinuation are relatively straightforward, as described by the brand:
 The production process was labor-intensive

Accessible pricing for the SKUs meant that The Ordinary was only able to cover production costs "if the volume that we sold was high"

Not enough consumers purchased the range

Therefore, the color sector never became profitable
The brand added that the intentional simplicity of the products (pigment suspensions designed to even out tone and offer a "real-skin finish") and lack of messaging around skin care benefits could have been another issue, though The Ordinary appears skeptical on that point. In its telling, the color products were necessarily simple.
One commenter's response perhaps highlighted the challenges shared by The Ordinary: "I honestly didn't even know you had foundation. I only shop your products from Sephora and I guess they don't carry it. I also don't buy foundations online as I find my skin tone really hard to match. Love your other products though!"
This is not the brand's only category expansion. The Ordinary entered the red-hot hair care space in early 2022.