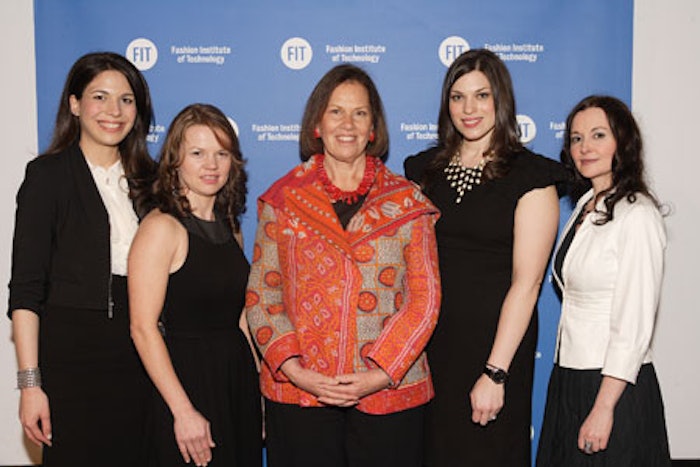 Group Mentor: Rochelle Bloom, The Fragrance Foundation
Fragrance sales have been trending downward since 2001, despite a brief peak in 2006 due to celebrity fragrances entering the market. Companies have launched new fragrances as a desperate attempt to engage the consumer. The recent recession only made a bad situation worse, as consumers began opting out of the category altogether.
In 2009, there were more than 1,100 fragrance launches globally, and more than 300 of those launches were in the United States. The U.S. mass and prestige fragrance category was down nearly 8% (global sales were down nearly 4%). The industry had entered into a launch-frenzy, yet sales continued to decline.
Consumers are confused, overwhelmed and frustrated, resulting in them going back to familiar brands they trust. Seven out of the top ten prestige fragrances are classics, having launched ten or more years ago. The strength of the connection the consumer has with these brands is unfazed by the industry's insistence on newness.
This paper will explore four concepts that will connect the consumer to fragrance—emotionally through education and storytelling, tangibly through quality product and compelling ingredient stories, creatively through an interactive retail experience and daily through technology.
Introducing Eau Share, Eau Juice, Eau Space and Eau Tech.
Eau Share
Education: A study conducted at Harvard University found that volunteers exposed to rose scent while sleeping after studying were able to remember the studied material without being exposed to the scent again. Another study showed that students who learn in a room scented with rosemary or lavender were far more likely to remember the information studied when exposed to that scent again. The sense of smell is being underutilized in early education. All other senses are incorporated into elementary education. One's ability to smell reaches a plateau at eight years of age. By incorporating scent education in primary education classes, students will be able to identify scents that occur in nature, develop a scent language and understand why they prefer certain scents.
Social Network: 1.2 billion people, or 20% of the world population, are between the ages of 15 and 24. Of this population, 96% have joined a social network. The average millennial, those born 1982 to 1995 and now 15 to 28, has 426 Facebook friends. Because of this exposure on social networks, the future of fragrance is through word of mouth utilizing digital media. Consumers will tell their fragrance stories in their own words online. By 2020, consumers will finally be able to describe what they smell and will have a fragrance vocabulary through scent education.
TV Network: The Food Network, HGTV, The Style Network and CNN have been instrumental in boosting awareness for chefs, designers and 24-hour news. Consumers are well educated about cooking and where ingredients come from through The Food Network. Direct selling networks, such as QVC and HSN, are selling an increasing amount of fragrances on television through storytelling and describing the fragrance. Television will be the new platform for fragrance awareness, education, sampling and purchase in 2020.
Eau Juice
Ingredient Story: Ingredient stories are used to connect with the consumer in industries from air care to ice cream. Companies such as Häagen-Dazs are calling out the ingredient story in advertising and marketing, connecting with the consumer tangibly through relatable ingredients and taking them on a sensorial journey to where ingredients are sourced.
Luxury fragrance brands and specialty retailers' brands are outperforming the overall prestige market. These two segments are hitting the emotional notes that resonate so deeply with consumers. From Jo Malone and Frederic Malle to Bath & Body Works, specialty and niche brands are engaging the consumer with interesting ingredient stories. To appeal to consumers, fragrance needs to be made more tangible, and the ingredient story offers just that.
Quality: The top selling classic brands, with quality fragrance ingredients, remain on the top 20 list year after year. Today, many new launches spend their money on packaging, bottle design, merchandising, advertising and talent, leaving very little for the product itself. In the past, investment in the fragrance oil was two to three times greater than it is today.
Classic brands dedicated 12–18+ months for the creation of a fragrance. The development process is critical and cannot be rushed. Ingredient materials need aging, and proper evaluations on blotter and skin are paramount. Much of today's development process has been condensed to just a few months, leaving less time for the creative process to flourish and, in turn, adversely impacting quality.
Quality is important today, and even more important to the next generation. The Millennials are 76 million strong, rivaling the 80 million baby boomers. Born in the technology age, they are risk takers, smart, educated and socially enlightened. They care about ingredients and product quality and integrity. They rate an appealing scent to be most important in their purchase decision, followed by quality and then price.
Millennials rate scent highly and own more fragrances than the general consumer, 8 versus 6. They like to purchase fragrance for themselves, and 91% of them said they like to receive fragrance as gifts.
In 2020, this consumer will have the most buying power of any generation.
Molecules: This new generation is technology-driven. New tech scents will offer safe alternatives to ingredients that are regulated and will appeal to this new generation. New molecules will offer olfactory stability, substantivity and an expanding palette of ingredient materials for perfumers.
Just as the food industry is touting molecular gastronomy, the fragrance industry should publicize the advancements in tech scents as "eau molecules." The word "synthetic" currently utilized in the fragrance industry has a negative connotation to the consumer and does not fairly describe the science behind these ingredients. By promoting molecules, the industry can move beyond the negativism the word "synthetic" brings to the industry.
Eau Space
Specialty stores are taking the lead in making shopping more exciting, providing a place where consumers can explore, discover and relax—a true destination. Other retailers are following suit and making major renovations to their cosmetic departments. But there is still not much change happening at the fragrance counter.
Today's retail environment for prestige fragrances is unexciting. Consumers are confused, daunted by the abundance of brands and aggressive sales people armed with spritzers and scent strips. The industry must create a space that is dedicated to fragrance, where the consumer can explore, try and experience fragrance. Like Disney's $1 million renovation per store project underway, the time is now to take those risks and renovate the store experience.
Experiential Retail Space: The industry must come together to create a dedicated area for consumers to experience fragrance. Eau Space is a new retail platform for fragrance selling. Eau Space is a flagship store concept, and parts of the concept may also be interpreted online as well as within other retail entities.
Lifestyle & Mood Categories: Fragrances will not be categorized by traditional classifications, such as designer or celebrity, as they are currently, but rather by personal lifestyle and moods. Consumers can more easily navigate these segment classifications, as they appeal to them on an emotional level. Building on rich research regarding how fragrance affects emotional states, such a retail approach will result in a much more engaged consumer.
Unedited Digital Reviews: Store shelves will feature touch screens that offer unedited digital reviews of the fragrances, which consumers may read and comment on in-store and online. These trusted peer reviews are much more compelling to Millennials, who love to share their fragrance opinions.
Fragrance Consultation Bar: Trusted advisors, or Scent Stylists, will be salary-based employees, not commission-based. They will be what makeup artists are to cosmetics or estheticians are to skin care, certified by The Fragrance Foundation to recommend fragrances that the consumer would enjoy. At least one Scent Stylist will be present in-store, and consumers may also send in questions to be answered by a Scent Stylist online. Like a wine sommelier, Scent Stylists may be consulted with for a deeper understanding of specific scents.
They will be well-versed in fragrances and will be able to share with the consumer how to wear fragrance, when to wear which fragrances, and how to layer one's favorite scents and have fun while mixing and matching fragrances.
Fragrance Pods: Fragrance pods will be another aspect of the store's interactive space, where scent, light and music come together. Experiences that are tied to other senses make stronger, lasting connections for the consumer. Fragrance pods will allow the consumer to explore various scents in a dynamic sensorial experience.
Fragrance Escapes: Consumers will be able to book fragrance escapes to France, Morocco or Bulgaria to see how fragrance is made and connect with fragrance, much like the wine industry engages the consumers through vineyard tours. It is a unique way of engaging the consumer through travel experiences. Disney stores offer travel services to their theme parks in-store. Fragrance retailers could pursue the same strategy.
Workshops and Classes: Industries like wine and food are incorporating classes and workshops in order to teach consumers about certain wine regions or how to cook a healthy meal. Eau Space will incorporate fragrance workshops in-store and online. Consumers will be able to learn directly from a perfumer how a juice is inspired or find their perfect wedding day fragrance in a special class dedicated to newly engaged couples. Workshops and classes will be an integral part of one's shopping experience and will enhance the consumer's appreciation for the industry.
Eau Tech
2020 will be a year of innovative scent deliveries. People can already chat, email, download music and watch video through the Internet. Now, imagine being able to smell one's boyfriend's scent when receiving an email or smell one's favorite restaurant while booking a table.
The sense of smell is directly connected to emotions. The power of scent makes content extremely compelling, offers a heightened sense of reality and intensifies emotions such as love or fear.
While the scent deliveries below may seem like science fiction, the required technologies already exist. It's only a matter of time before they will become part of one's daily life.
Space Scent: Las Vegas casinos, retail stores like Abercrombie and Fitch, and hotel chains such as The W are already fragrancing their spaces as a way of branding. By 2020, every space will have a unique scent to cue the consumer.
Mobile Phone Scent: Companies such as NTT Communications, Samsung and Motorola all hold patents on technologies that allow mobile phones to emit scent. Users will be able to send and receive scent tones, experience scents when receiving phone calls and send scented attachments.
Internet Scent: Telewest Broadband, a UK cable company, has released a new technology that brings a third sense to the Internet, allowing Internet users to send and receive wonderful aromas while surfing the web. The revolutionary technology enables people to send and receive codes to special "scent domes," which mix liquid scents and spray them into the air around the PC. This unique scent dome is made by TrisSenx, and it works like a printer or a scanner; just plug it in and experience the aromas of the world.
Scent TV: ScentTV launched a revolutionary Scented Web Broadcast portal that enables users to smell the scented content, including movies, games and music videos.
Scent Patch: The fragrance patch technology already exists. The patch emits fragrance to the body or an article of clothing.
Scent Ingestible: A team of Brazilian researchers has come up with a pill that replaces unpleasant body odor with a much more pleasing scent. The idea came from foods such as garlic, asparagus and curry, which perfume the skin, urine and sweat.
The team just released the Fyber Sense pill that, once consumed, discharges, through sweat, a lavender-like scent obtained from the herb coriander. It still needs more research before health authorities approve this pill for sale.
Scent Cocktail: Today's technique of fragrance-making has greatly evolved, consisting of many notes that capture the aromas of popular cocktails. With drinks and fragrances being so similar in craft, the infusion of top scent notes with alcoholic cocktails will become a unique way to brand fragrance.
Conclusion
Scent is part of nature and triggers one's olfactory memories. It enlivens one's taste buds and it ignites one's desires. It is the industry's responsibility to excite and re-engage consumers. The time is now to embrace tomorrow's dominant cohort, the Millennials. They love scent, and fragrance needs to connect with them through story-telling, quality product, interactive retail space and innovative technology.
The information above is the work of students in FIT's Master's Degree Program: Cosmetics and Fragrance Marketing and Management, and any reproduction or use of this material requires their written permission.