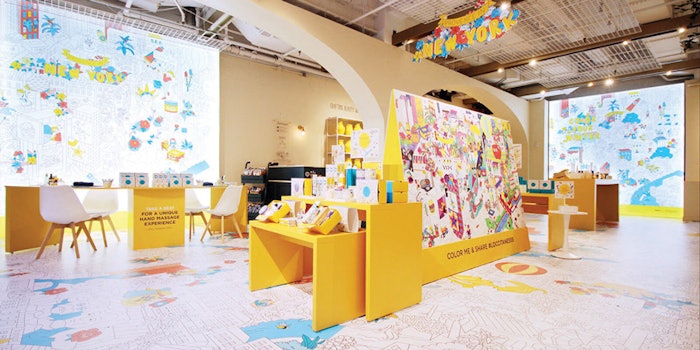 In the latest reporting period, L'Occitane noted that nine-month 2020 sales (ending December 31, 2019) rose 20.2%, with the L'Occitane en Provence brand alone growing 6.3%. Sales in China increased 32.4% in the third quarter, led by its Double 1 campaigns, per the company. Net sales for third quarter were e578.9 million, a gain of 15.2%, year-over-year at constant rates, while nine-month sales totaled e1,306.0 million, a gain of 17.3% at constant rates.
The United Kingdom was the company's fastest-growing market in the third quarter, marking 98.4% growth, driven primarily by Elemis. U.S. sales expanded by 22.5% in the same period, also led by Elemis.
While the beauty and personal care industry is strongly challenged in the wake of the COVID-19 outbreak, L'Occitane is poised to succeed with its strong focus on retail and brand experience, often driven by scent.
Global Cosmetic Industry recently interviewed Lucile Crespin, communication and PR, L'Occitane en Provence, to learn more about the brand's ethos and strategy.
Global Cosmetic Industry: What is the L'Occitane en Provence's relationship to scent? How does this relationship impact its product design and retail strategy?
Lucile Crespin (LC): Engaging the five senses is very important to L'Occitane en Provence. We have always paid special attention to curating a sensory experience for our clients, whether it is through the ingredients we choose, how our products are formulated and used, the creativity of our packaging, or the design of our boutiques.
In our boutiques we want to take our clients on a sensory journey through the world of L'Occitane en Provence. This journey begins as soon as someone walks through the door and is enveloped by a captivating scent that instantly whisks them away to Provence.
The natural ingredients of Provence inspire us every day. This inspiration led us to choose a signature fragrance featuring one of our most iconic ingredients, verbena. Its lush, vibrant and mood-enhancing scent brings the spirit of L'Occitane en Provence to life.
We chose the same fragrance for all of our boutiques, so that no matter where you are in the world, when you step into one of our boutiques, you are magically transported to the South of France.
Global Cosmetic Industry: What are the benefits of ambient scenting ?
LC: Consumers are very responsive—and even influenced—by their sensory environment ... An alluring fragrance in a boutique can play a key factor in someone's decision to make a purchase on the spot, rather than online. Beautiful scents positively impact one's mood and encourage one to linger longer, enjoying their surroundings, exploring new products and creating an emotional tie. This sensory connection makes clients more likely to come back to an invitingly scented boutique.
We strive to create a multisensorial experience in our boutiques that encourages our clients to discover a dynamic world full of colors, textures and scents. Fragrances create an important backdrop by bringing our clients into the shared passion of our producers, our partners, and the diverse team at L'Occitane en Provence.
Global Cosmetic Industry: What are the key best practices for shop scent development and deployment? Can you describe the process of developing the scent? How does the scent reflect L'Occitane's story?
LC: For L'Occitane en Provence, it was easy to find inspiration by looking to our best-sellers range and identifying the ingredients and aromas that our clients already loved. We chose verbena for its spirit-boosting fragrance with sparkling herbal and citrusy notes. Its fragrance transports you to Provence, where its bright aroma floats through the sunbaked terroir. The challenge, however, was to create a fragrance that was light and fresh, while also being redolent and evocative for our clients.
For the full article, check out Global Cosmetic Industry's May digital magazine.