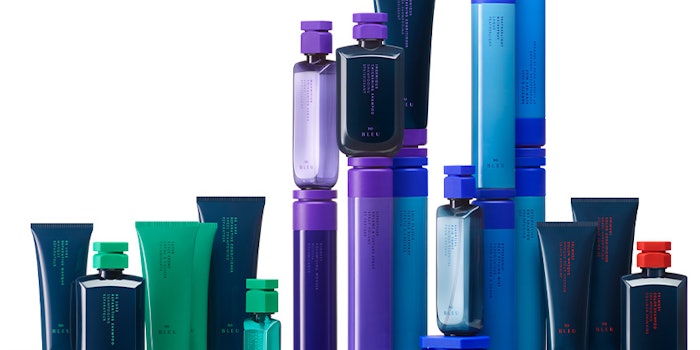 R+Co's new luxury hair line, R+Co Bleu, features 21 formulations that are said to bring sophistication, unparalleled quality and ingredient innovation to hair care.
Further reading: Bread Beauty Supply Embraces Simplicity in Natural Hair
The new line will heal, rebuild, nourish and protect hair from chemical processes to heat styling. Stylists will be able to create looks infused with flexibility, movement and shine.
The range offers four families according to benefit and individual hair needs. Each formula contains exclusive Bleu Molecule Complex technology that is made with micro-encapsulated sugar molecules that repair and revive damaged hair.
Repair & Moisture
Volume
Essential
Color
Update: Dan Langer, president of R+Co, recently provided his insights into the Bleu launch and the prestige hair care sector in general.
Virtuous, Luxurious & Clean

"R+Co has always been focused on thoughtful ingredients and vegan formulations–and over time we grew to a place where we are championing a sustainable product–both inside and out," says Langer.
He adds, "Last year we started incorporating even more recycled materials into our packaging. For R+Co BLEU, we wanted to really push the envelope–both for ourselves and to set the standard for the industry."
Langer concludes, "We had identified a white space in the market for a clean, luxurious, prescriptive and results-driven hair care line, so our focus was on leading the industry in what was possible–to create a virtuous cycle of both recycled and recyclable packaging."
The New Luxury
"Using conscious ingredients and sustainable resources should be the the baseline for prestige hair care," says Langer. "The new luxury is not having to compromise quality and performance for sustainability and awareness"
Langer adds, "We strive to stay ahead of the curve on innovation and go beyond just the formula but also focus on the packaging, the business practices and the partnerships. As an example, we are very proud to be working with an incredible organization called One Tree Planted–that focuses on reforestation efforts around the world–to create stylist focused tree-planting events around the globe"
Effective, Ethical Ingredients
"For R+Co BLEU, we wanted to craft the ultimate hair care line that focused on the highest-test ingredients, the most advanced sustainable packaging and beautiful design," says Langer. "We collaborated with some of the most influential hair stylists on some of their dream products and formulas–and, worked with the most savvy consumers to identify ingredients and standards for efficacy and consciousness.​"
Per the brand, R+Co Bleu is:
Color-safe

Vegan

Leaping Bunny-certified

Gluten-free

Sulfate-free

Paraben-free
Aside from the formulas, the bottles and jars are made of 100% post-consumer recycled material. The product tubes are constructed from recyclable bioresin sugarcane plastic.
R+Co Blue partnered with One Tree Planted so that with every purchase, a donation is made to promote reforestoration efforts around the world. 
Within each product packaging, a seed-embedded paper is included that when planted grows wildflowers.
Each product has a color-coded cap based on benefit that specifies blue for essentials, orange-red for color, green for repair and moisture and purple for volume.