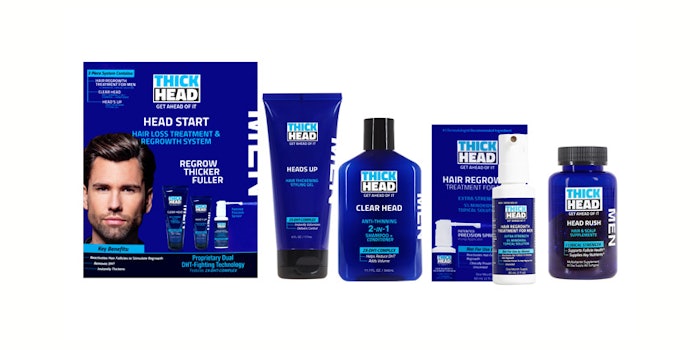 Thick Head is a brand specializing in products meant to combat male hair loss. 
According to Thick Head, the most-likely cause of hair loss is Dihydrotestosterone (DHT). The brand explains that when testosterone is converted into DHT, the DHT binds to the receptor of the hair follicle and causes the follicle to weaken, shrink and stop producing hair.
Thick Head products contain what it calls 2X-DHT-Complex, "a proprietary blend of known DHT-fighters, and an ingredient that helps reduce DHT on the scalp, to attack hair loss head on."
Products include:
Hair Regrowth Treatment for Men Extra Strength 5% Minoxidil Topical Solution;
Clear Head Anti-Thinning 2-IN-1 Shampoo + Conditioner;
Head Rush Hair & Scalp Supplements; and
Head's Up Hair Thickening Styling Gel.